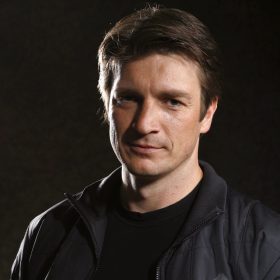 Nathan Christopher Fillion
Nathan Fillion, a Canadian-born actor who later became an American citizen, gained fame for his roles in television series like "Firefly" and "Castle," as well as the film "Slither." Throughout his extensive career, Fillion has garnered numerous accolades, including the moniker of a "serial show killer."
What we know about this person
Full name:
Nathan Christopher Fillion
Date of birth:
March 27, 1971
Zodiac sign:
Birthplace:
Edmonton, Canada
Occupation:
actor, producer
Early life
Nathan Christopher Fillion, born on March 27, 1971, in Edmonton, the capital city of Alberta, Canada, hails from a family of educators specialized in teaching English. Unlike his elder sibling Jeff, Nathan didn't initially show a strong inclination towards following in his parents' footsteps.
He attended Holy Trinity Catholic High School and, even as a fifth-grader, displayed his acting skills, not on a formal stage, but in front of his family. Fondly reminiscing in an interview, Fillion recounted how he cunningly feigned illness to evade a math test, managing to deceive his unsuspecting parents.
It was only in his final year at the University of Alberta that Nathan seriously contemplated pursuing an acting career. The turning point came when he learned about auditions for a role in a soap opera and decided to take a leap of faith. Despite facing stiff competition from numerous applicants, Fillion successfully caught the attention of the judges, earning a secondary role in the film "One Life to Live."
This breakthrough opportunity served as a catalyst for the budding talent to relocate to New York, where he tirelessly pursued further television projects.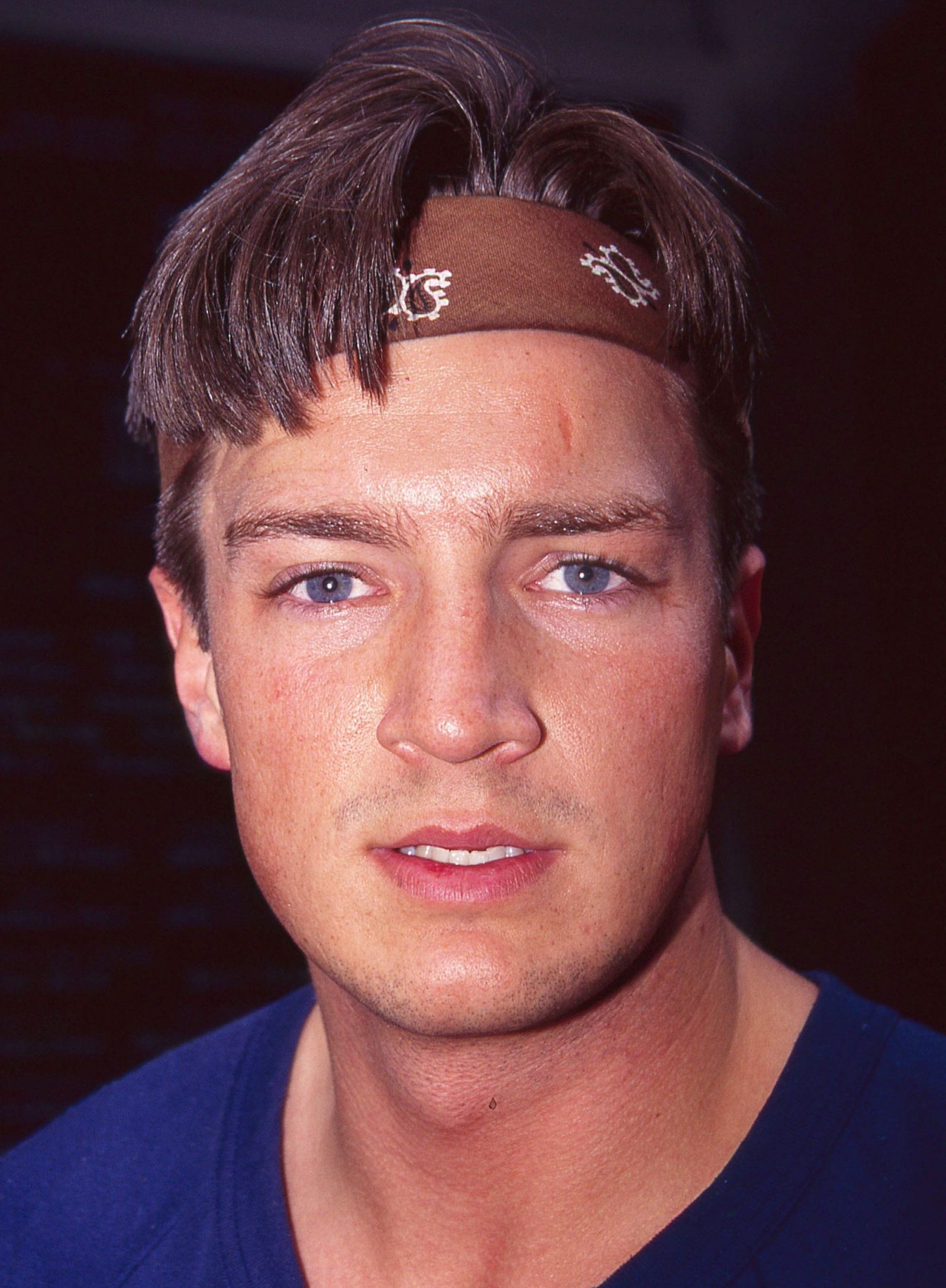 Nathan Fillion young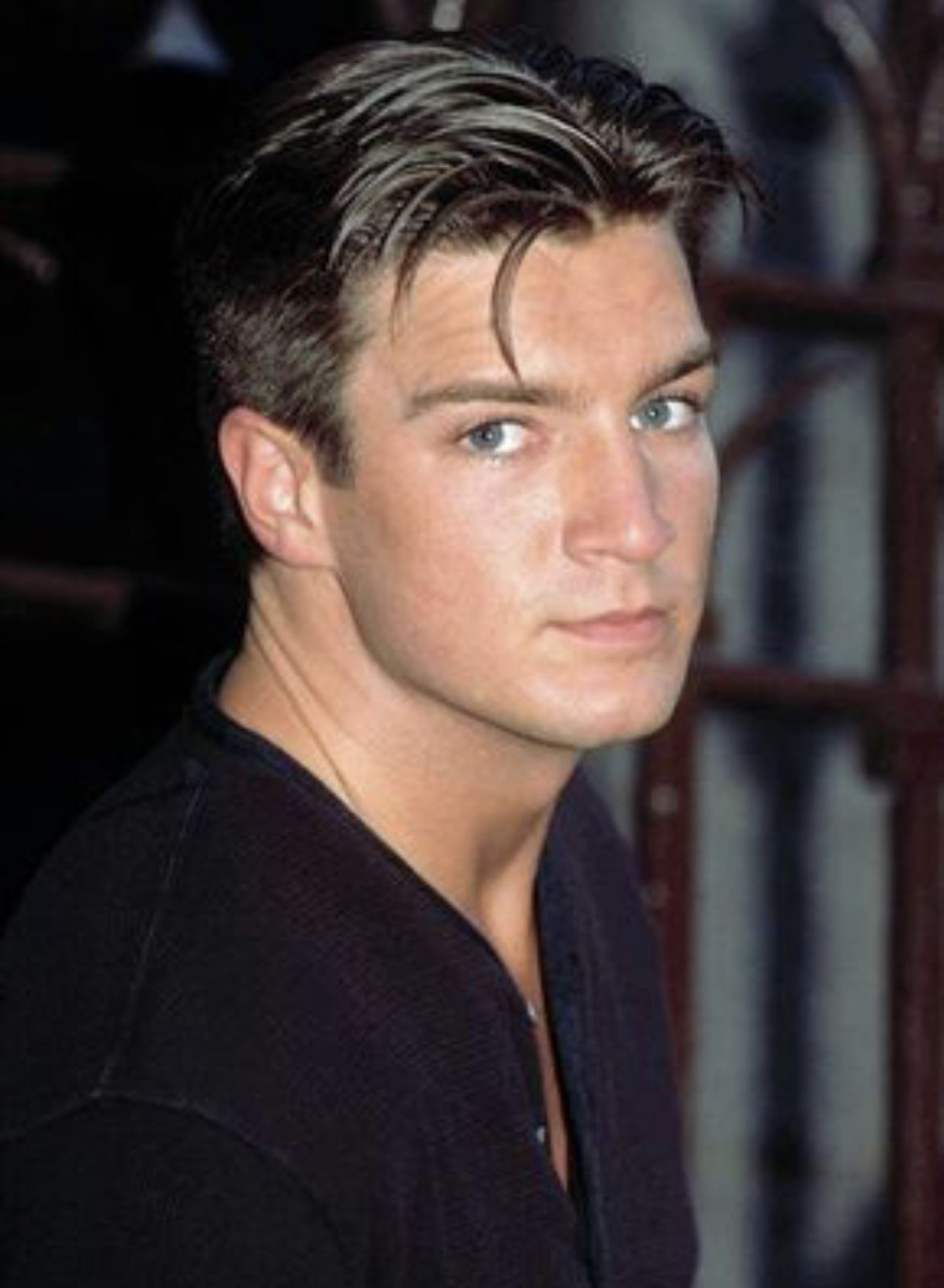 Nathan Fillion young
Career
Driven by his ambition, Nathan found himself in Los Angeles a year later, seeking greater opportunities and achieving global recognition. Known for his relentless work ethic, the actor has earned a reputation as a true workaholic, with friends and colleagues attesting to his ability to dedicate up to 17 hours a day to his craft. This unwavering commitment paid off as Nathan actively participated in the production of several films during his initial three years in Los Angeles.
Notable among his early projects is the renowned Steven Spielberg film "Saving Private Ryan," where the young Fillion had the privilege of working alongside the esteemed Tom Hanks. Another significant role for Nathan was as the priest in the thrilling movie "Dracula 2000," featuring a stellar cast including Jonny Lee Miller, Gerard Butler, and Christopher Plummer.
However, true success awaited the talented actor when he became a part of Joss Whedon's "Firefly," a television series that premiered in 2002. Co-starring alongside him were Morena Baccarin, Gina Torres, and Alan Tudyk, further elevating his status in the industry.
Recognizing Nathan's perfect fit for the role of Captain Malcolm Reynolds, the director wasted no time in casting him, knowing that Fillion possessed an unparalleled ability to bring the character to life. Despite its undeniable success, "Firefly" unfortunately met an untimely end after just one season, concluding in 2003. However, in a delightful surprise for fans, a follow-up film titled "Serenity" was released in 2005, serving as a quasi-sequel to Whedon's beloved creation and once again featuring Nathan in a prominent role.
Following the closure of "Firefly," Fillion embarked on a new television series called "Water's Edge," where he portrayed Robert, a writer determined to uncover the dark secrets of his town's top officials after rescuing a girl from a corrupt sheriff. Alongside Chandra West and Daniel Baldwin, Nathan's talents shone in this thrilling production.
His affinity for horror films grew, particularly after his appearance in "Slither," leading to him being affectionately dubbed "Dude You Don't Wanna Mess With" by Fangoria magazine. The year 2007 proved to be exceptionally busy for the actor, as he made frequent appearances in various series and movie premieres, further cementing his presence in the industry.
Notably, Nathan's involvement in projects such as "Waitress" and "Desperate Housewives" garnered significant attention. However, it was his participation in the short-lived series "Drive" that earned him the nickname "TV series killer," as fans noticed a pattern of shows ending shortly after his appearance. Nevertheless, this notion was soon debunked as a mere myth.
In more recent years, Nathan Fillion has expanded his role in the industry to include producing. He has notably produced 22 episodes of the series "Castle" and 13 episodes of the show "Con Man," showcasing his diverse talents and commitment to storytelling both in front of and behind the camera.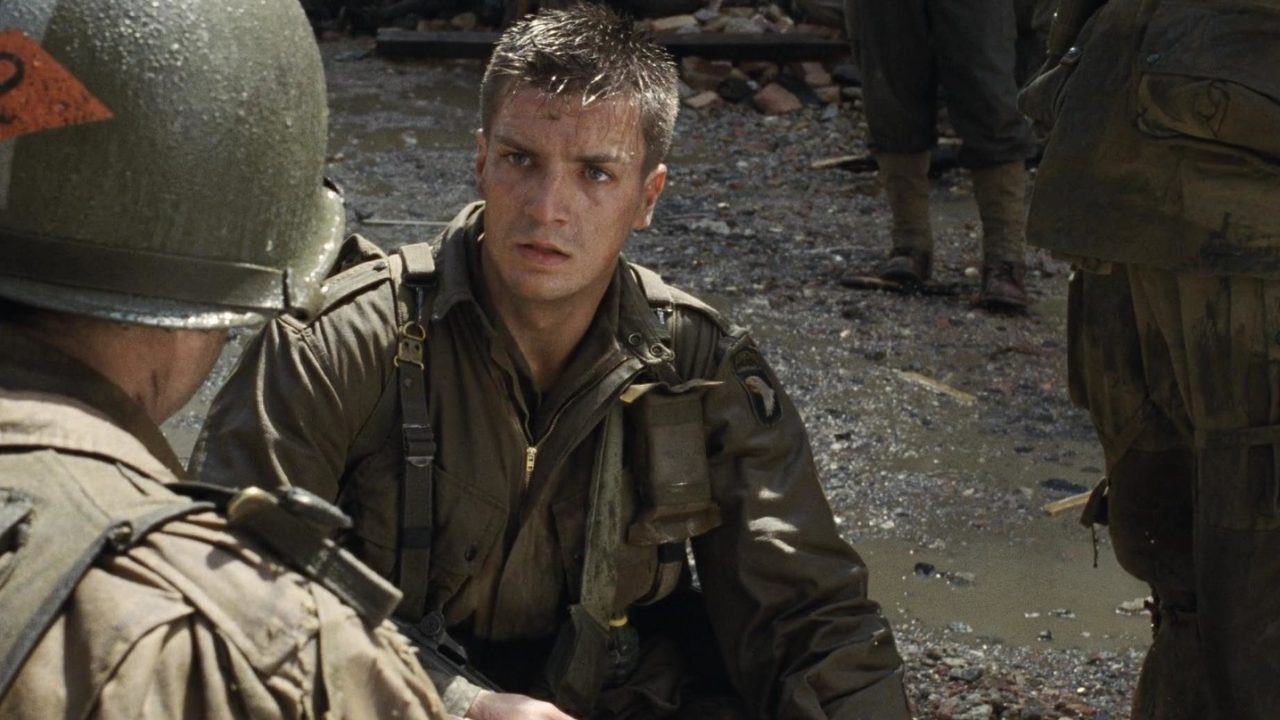 Nathan Fillion in Saving Private Ryan (1998)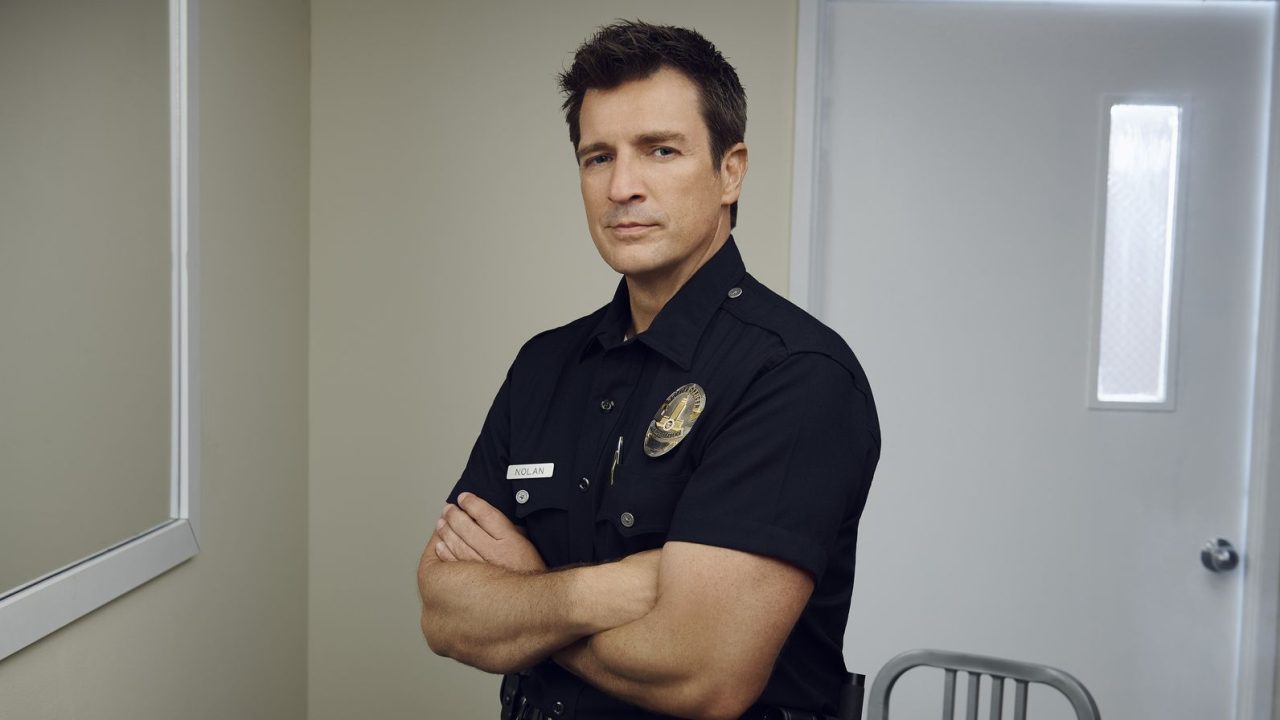 Nathan Fillion in The Rookie
Nathan Christopher Fillion Movies and TV Shows
2023

Guardians of the Galaxy Vol. 3

Master Carja

2021

The Suicide Squad

Cory Pitzner / T.D.K. (The Detachable Kid)

2018–...

The Rookie

John Nolan

2018

Uncharted Live Action Fan Film

Nathan Drake

2018

Night Hunter

Matthew Quinn

2014

Guardians of the Galaxy

Blue Alien Prisoner (voice)

2013

Percy Jackson: Sea of Monsters

Hermes

2009–2020

Modern Family

Rainer Shine

2009–2016

Castle

Richard Castle

2005

Serenity

Malcolm "Mal" Reynolds

2004–2012

Desperate Housewives

Dr. Adam Mayfair

2004–2010

Lost (episode "I Do")

Kevin Callis

2002–2003

Firefly

Malcolm "Mal" Reynolds

1998

Saving Private Ryan

Pvt. James Frederick "Minnesota" Ryan

1997–2003

Buffy the Vampire Slayer (5 episodes)

Caleb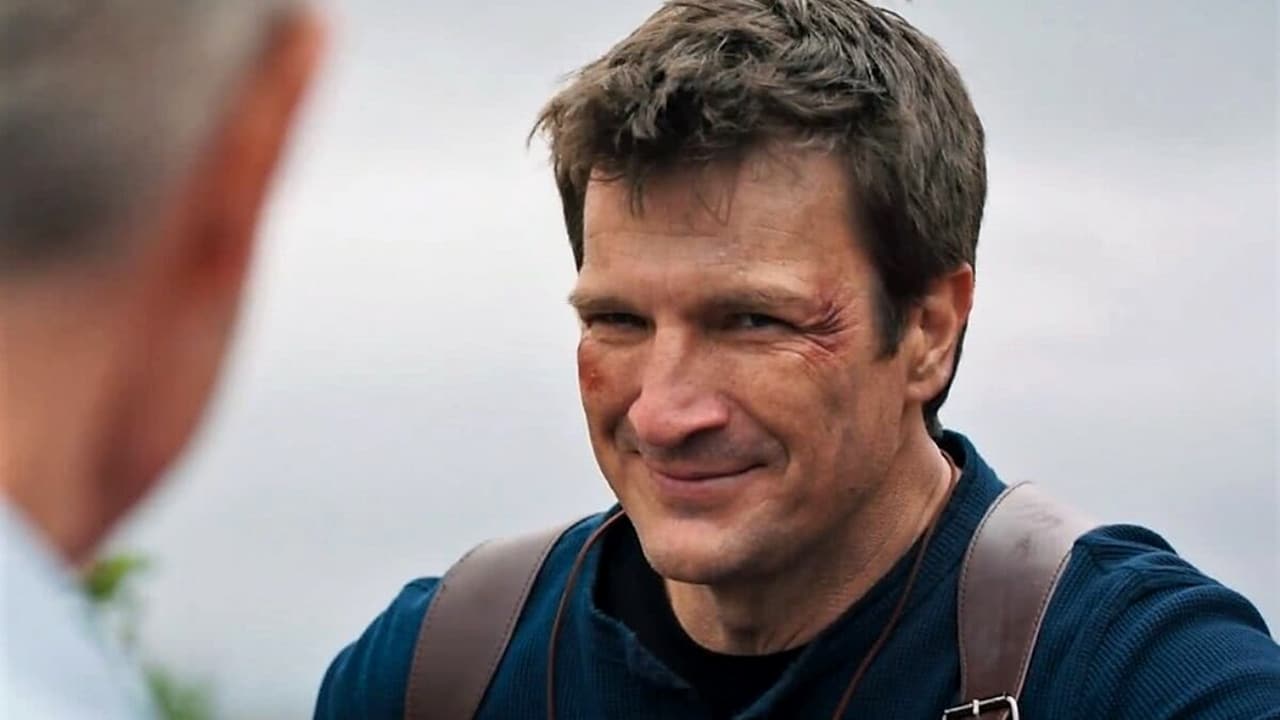 Nathan Fillion in the Uncharted Live Action Fan Film
Casting for "Castle"
Nathan Fillion's portrayal of writer Richard Castle in the eponymous show brought reassurance to viewers, dispelling any preconceived notions of his "murderous" reputation. The highly successful TV project debuted in 2008 and continued for a remarkable 8 seasons. Fillion's embodiment of the character made him synonymous with Richard Castle in the eyes of fans, with Stana Katic as his on-screen love interest. Supporting cast members included Susan Sullivan, John Huertas, and Seamus Dever.
While speculation surrounds the show's conclusion, the exact reasons behind its closure remain unknown. Many fans believe that internal conflicts between Fillion and Katic, who reportedly had a strained relationship throughout the years, may have played a role. In total, Nathan Fillion has amassed over 60 roles in various projects, solidifying his status as a versatile and accomplished actor.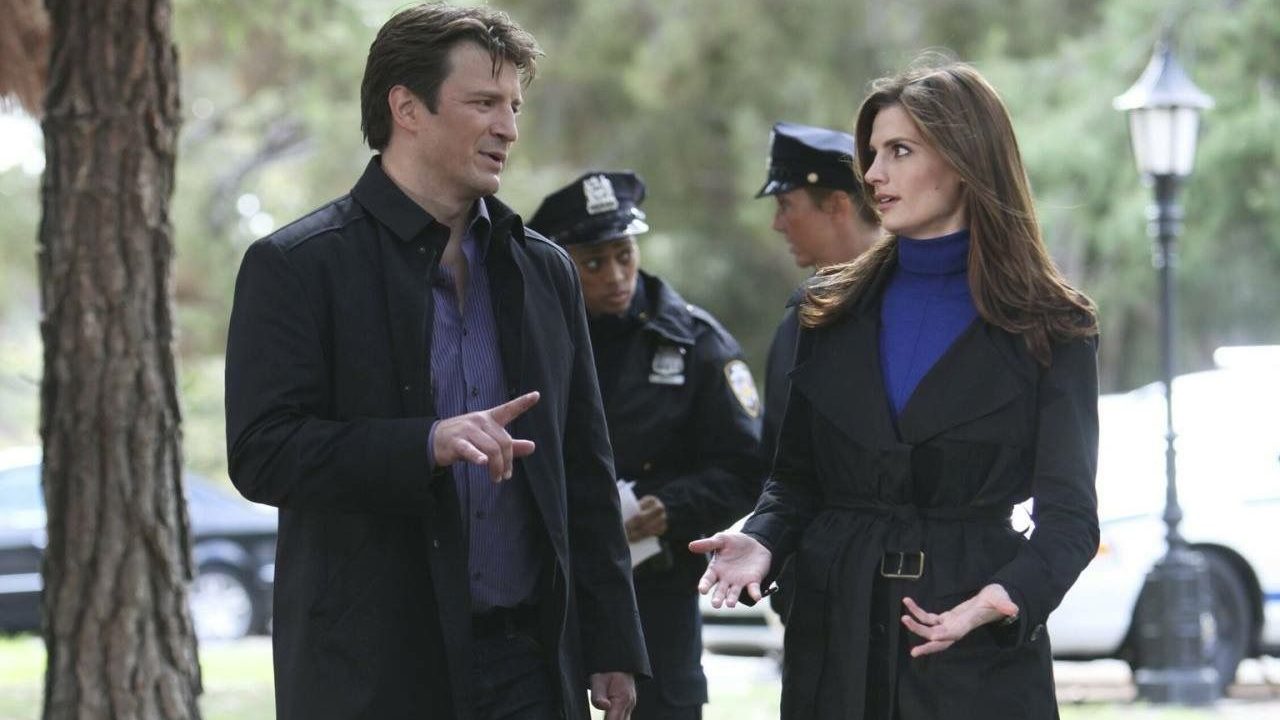 Nathan Fillion and Stana Katic in Castle
Nathan Fillion's personal life and family
Regrettably for his fans, the 46-year-old actor continues to maintain his status as a highly desirable Hollywood bachelor, keeping his romantic life out of the public eye. Throughout his career, Nathan Fillion has been successful in shielding his loved ones from media scrutiny, resulting in a lack of reliable information regarding his marital status. Speculations about him having a daughter also remain unverified.
One relationship that did catch the attention of paparazzi was with Christine Ochoa, his co-star in the show "American Family". However, rumors of their engagement were quickly dispelled. As a result, fans of Fillion can only rely on his social media accounts for glimpses into his personal life, as he shares his thoughts and experiences with his followers.
Updated:
September 26, 2023