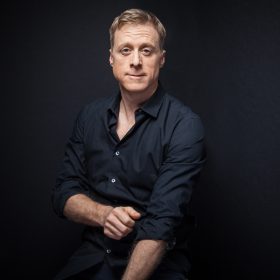 Alan Wray Tudyk
Alan Tudyk, an American actor, is recognizable to numerous individuals despite his infrequent leading roles. With over a hundred diverse projects in his extensive filmography, he extends his talent not only to on-screen performances but also lends his voice to animated productions. Among his most remarkable works is the renowned series "Firefly," alongside Nathan Fillion and Gina Torres, which propelled him into the realm of stardom and solidified his status as an icon.
What we know about this person
Full name:
Alan Wray Tudyk
Date of birth:
March 16, 1971
Zodiac sign:
Birthplace:
El Paso, Texas, USA
Marital status:
Married to Charissa Barton
Early life
Alan Wray Tudyk, hailing from Texas, spent his entire childhood and teenage years in the Lone Star State. His distinctive last name has always piqued curiosity, hinting at Polish heritage. The truth behind it is rather straightforward: Tudyk's ancestors successfully migrated from Eastern Europe to the United States. During his formative years, the young boy immersed himself in the study and practice of acting, dedicating relentless effort to honing his craft. Concurrently, he pursued his education at a school in close proximity to Dallas.
In the early 1990s, Tudyk embarked on a two-year drama program at the Methodist-affiliated Lon Morris College in Jacksonville. Nevertheless, his pursuit of knowledge did not deter him from making bold forays into the realm of the arts. For instance, he ventured into stand-up comedy, only to be met with adversity. Threats from the audience forced him to abandon this endeavor, as inebriated attendees bellowed profanities and even issued death threats towards the artist performing on stage.
After his time in Texas, Alan Tudyk relocated to the vibrant city of New York, where he pursued his education at a renowned institution. Alongside his studies, he tirelessly nurtured his acting abilities, determined to make a mark in the industry. Regrettably, the aspiring actor did not complete his degree, as he made the bold choice to discontinue his studies after his third year. However, it was during his time as a student that Tudyk first graced the stage in theatrical productions.
His dedication and talent did not go unnoticed, as he garnered recognition and accolades for his remarkable performances in various dramatic projects.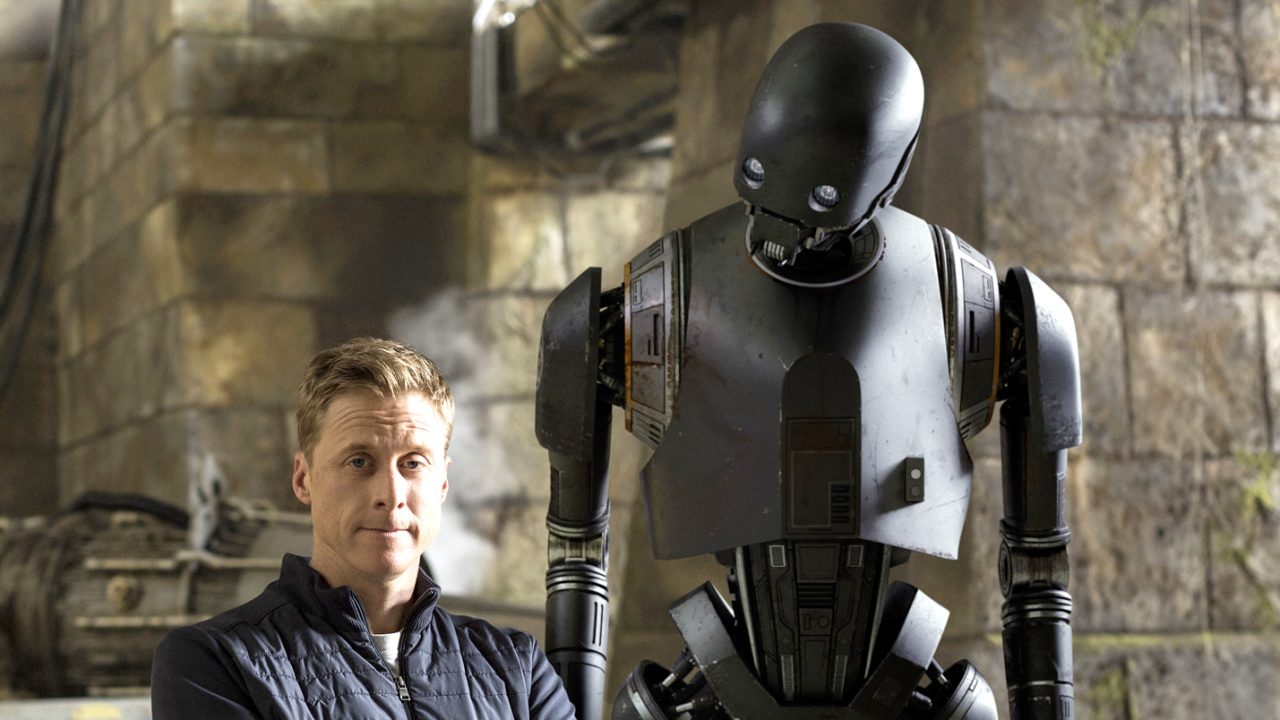 Alan Tudyk with K2SO, CGI character voiced and portrayed through motion capture by the actor, at the filming of "Rogue One"
Career
Determined to stay in New York, Alan Tudyk took a chance and attended a casting that turned out to be a pivotal moment in his career. The talented young man found himself working on Broadway, where he graced the stage in several remarkable productions, including "Wonder of the World," "Oedipus," "Bunny Bunny," and more.
Early on, Tudyk had the opportunity to be part of significant projects, such as the film "28 Days," where he shared the screen with the renowned Sandra Bullock. Another notable film in which Tudyk showcased his talent was "A Knight's Tale."
In addition to his live-action work, the versatile actor also made a name for himself in the world of animated films. One notable example is his involvement in the beloved film "Ice Age." Tudyk discovered a genuine passion for voice acting, finding as much joy in lending his voice to animated characters as he did in traditional on-screen performances.
His vocal talents have been showcased in popular films such as "Frozen," "Zootopia," "Aladdin," and his recent project, "Encanto," which brings to life the enchanting story of a family with extraordinary abilities.
Alan Tudyk maintains a hectic schedule, alternating between film and television projects, as well as voice-over work in the studio. His popularity spans various genres, including comedies and science fiction films. In the superhero action film "Deadpool 2," Tudyk played a villager involved in a car theft, sharing the screen with renowned actors such as Matt Damon, Ryan Reynolds, and Morena Baccarin.
Notably, Tudyk remains in high demand, with his involvement in numerous projects. One notable work is the streaming series "Doom Patrol" alongside Matt Bomer and Diane Guerrero, where he portrays a villain named Eric Morden with supernatural powers. Morden's abilities disrupt people's cognitive functions, adding complexity to the show's narrative.
Alan Tudyk's television career has been equally impressive. He appeared in the acclaimed series "Santa Clarita Diet," which revolves around the transformation of people into zombies. Although his role was small, he had the opportunity to work alongside Drew Barrymore and Timothy Olyphant. The comedy-horror series gained significant popularity and received highly positive reviews during its three-season run.
In a recent successful project, the series "Resident Alien," Tudyk took on a leading role. The story follows an alien who crash-lands on Earth and seeks refuge in a small town in the United States. Posing as a doctor, he grapples with the decision of whether to fulfill his original mission of destroying humanity. The series has captivated audiences with its intriguing premise and Tudyk's compelling performance.
Alan Wray Tudyk Movies and TV Shows
2021–...

Resident Alien

Dr. Harry Vanderspeigle

2019

Doom Patrol

Eric Morden / Mr. Nobody

2018

Deadpool 2

Luke, Redneck #1

2016

Rogue One

K-2SO

2011

Transformers: Dark of the Moon

Dutch

2010

Tucker & Dale vs. Evil

Tucker

2007

3:10 to Yuma

Doc Potter

2005

Serenity

Wash

2004

I, Robot

Sonny

2002–2003

Firefly

Hoban "Wash" Washburne
Alan Tudyk's personal life and family
Alan Tudyk is happily married to Charissa Barton, a talented choreographer from Canada. The couple announced their impending marriage in 2015 and officially tied the knot in 2016. Charissa is highly accomplished in her field and holds the role of creative director in various productions. Her expertise has taken her to prestigious venues such as the Sydney Opera House and the John F. Kennedy Center for the Performing Arts.
As a choreographer, Charissa has worked with renowned artists and has choreographed ballets that have garnered critical acclaim. She also runs a successful organization called the Barton Movement. Alan and Charissa share a joyful and fulfilling marriage, evident from the numerous pictures they share on social media platforms. Alan himself is an avid user of social media, often posting updates on important life moments and even sharing delectable food photos with his followers.
Despite sharing mouthwatering high-calorie meals on his social media account, Alan Tudyk is well-known for maintaining a good physical shape. Standing at 1.83 meters tall and weighing 79 kilograms, the actor seems to effortlessly stay in shape. While there is no public information about a specific diet or intense workout regimen, Tudyk has not mentioned being a fan of running or regular exercise.
It is possible that his consistent engagement in a wide range of projects, including voice acting for both cartoons and video games, contributes to his overall physical activity and helps him maintain his physique.
Updated:
September 26, 2023