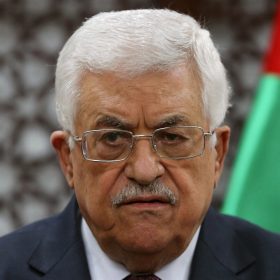 Mahmoud Abbas
Mahmoud Abbas possesses a profound expertise in Middle Eastern politics. Experts in Arab culture describe the Palestinian President as a skilled diplomat: articulate and tactful, with an appreciation for Eastern poetry and a preference for peaceful resolutions over conflicts. His image as a balanced and practical leader has been advantageous in peace talks with Israel.
What we know about this person
Date of birth:
November 15, 1935
Marital status:
Married to Amina Abbas
Occupation:
executive, politician, president
Early life
Born in the Mandate-Era Palestine in Safed, which is now Tzfat in Israel's northeast, Mahmoud's birthplace is biblically believed to have been established post the Great Flood by one of Noah's sons. While there's some debate regarding his exact birth date, many sources point to November 15, 1935.
Mahmoud's aversion to Israel has personal roots. During the Israeli War of Independence, his family had to seek refuge in Syria. He pursued his law studies at Damascus University and furthered his education in Egypt. In the 1980s, he completed his dissertation in Patrice Lumumba Peoples' Friendship University of Russia, focusing on the early interactions between Zionists and the Nazis under Hitler. Controversially, in this work, he suggested that the Holocaust's death toll was in the hundreds of thousands, not millions.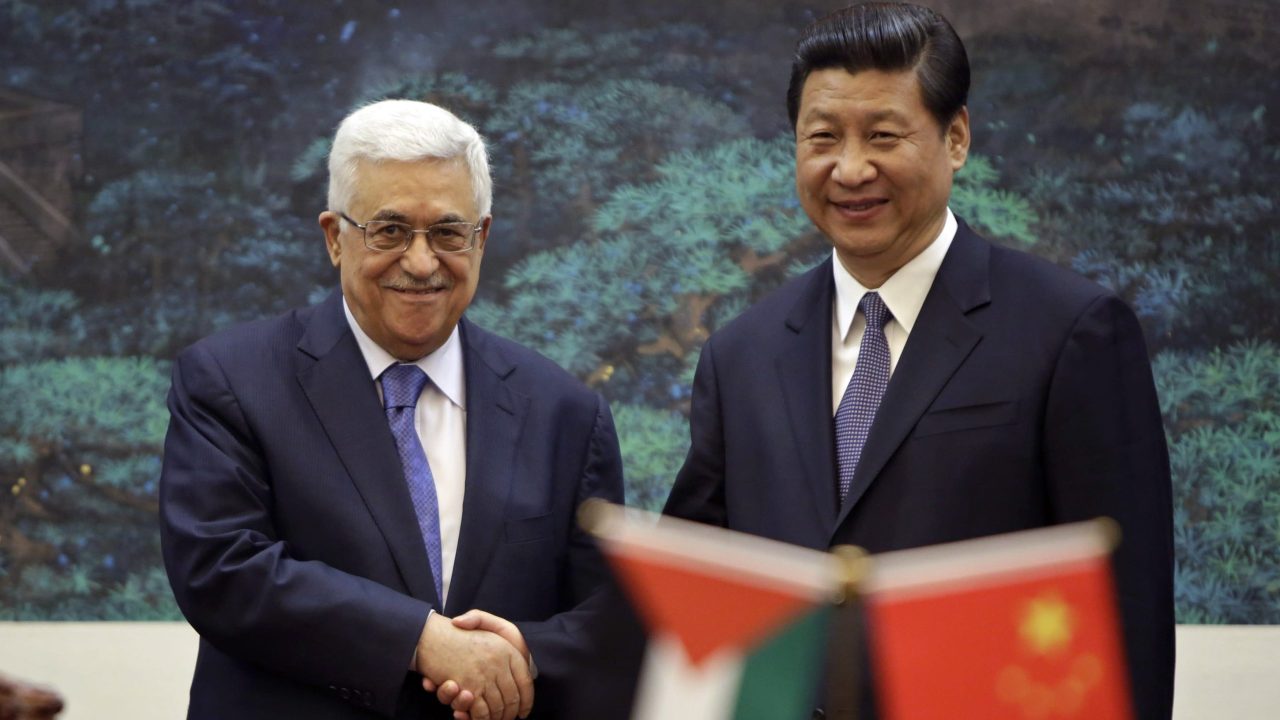 Mahmoud Abbas and Xi Jinping shaking hands
Political journey
Abbas played a foundational role in FATAH, which later became integral to the Palestine Liberation Organization (PLO). He was responsible for the organization's financial operations. In 1996, he became Yasser Arafat's primary deputy in the PLO. Following Arafat's demise in 2005, Abbas took over the reins of the Palestinian National Authority. Notably, in the subsequent months, Russian leader Vladimir Putin made a historic visit to Palestine.
Assuming the title of the President of Palestine in 2013, Abbas rebranded the Palestinian Authority as the state of Palestine. His role in peace dialogues with Israel often saw mediation from Switzerland's President, Didier Burkhalter. In 2019, he called on Iran to support all Palestinians and discouraged extremist Palestinian factions like "Islamic Jihad" and HAMAS from attacking Israeli lands.
Abbas has made multiple trips to Russia, attending significant events like the inauguration of Moscow's Cathedral Mosque and the World Cup finals. He has also shared his views on political issues in the Caucasus. In a notable instance in 2015, the Palestinian ambassador in Baku expressed Palestine's non-recognition of Nagorno-Karabakh's election outcomes, emphasizing their support for Azerbaijan's territorial integrity.
Concurrently, in 2016, Abbas celebrated Christmas as per the ancient Armenian calendar and drew parallels between the challenges faced by Palestinians and the aftermath of the Armenian genocide. From 2005 to 2018, an Armenian, Manuel Hassassian, served as Palestine's ambassador to the UK.
In January 2021, Abbas declared the initiation of the first general elections in Palestine in over 15 years. The citizens of this semi-recognized nation were set to vote for the Legislative Assembly members in May 2021 and the presidency in July.
By March 2021, Abbas received his coronavirus vaccine, urging fellow Palestinians to do the same. A snapshot of him getting vaccinated was shared on his official Instagram account. Notably, this platform, owned by Meta corporation, is prohibited in Russia due to its extremist label. A quarter earlier, Mahmoud had a telephonic conversation with Putin discussing the provision of Russian vaccines to Palestine.
Come April 2021, Abbas, originally from Safed, sought medical care in Germany, a place where he had previously received treatment for prostate cancer in 2019. En route from Ramallah to Berlin, he paused in Amman, expressing solidarity with Jordan's King Abdullah II, who faced a coup attempt from his half-sibling, Prince Hamzah bin Hussein.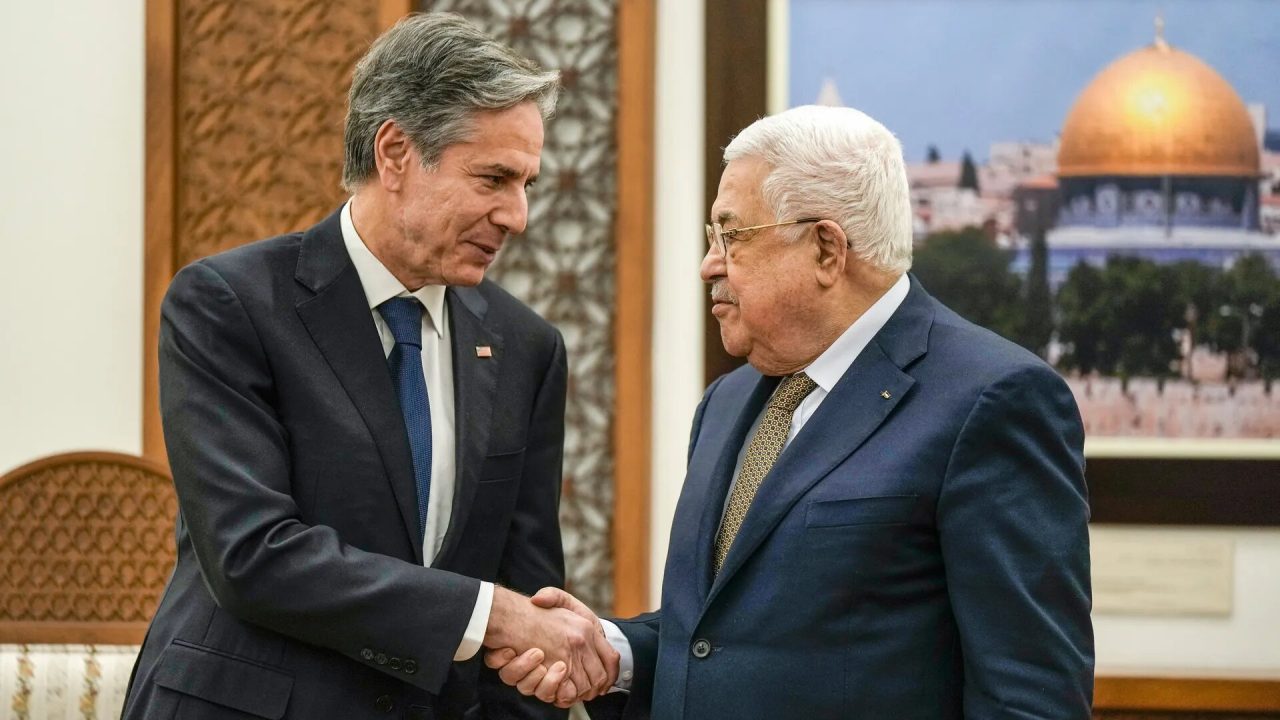 Mahmoud Abbas and Antony Blinken shaking hands
Personal life
Details about Mahmoud's private life remain scant. Known to be a chain smoker, Abbas has a penchant for cardamom-infused coffee. He's multilingual, proficient in Arabic, English, and Hebrew, with a basic grasp of Russian. His wife, Amina, mothered three sons. Tragically, their eldest, Mazen, died in Qatar in 2001 at 42. The other two sons, Yasser and Tarek, are entrepreneurs.
Abbas is a proud grandfather to eight, with six of them actively involved in the "Seeds of Peace" initiative. This global effort seeks to bridge gaps between the youth of conflicting nations. In 2014, reports surfaced about Amina Abbas undergoing a surgical procedure in a Tel Aviv-based private clinic. However, the clinic upheld patient confidentiality, neither confirming nor refuting the claims.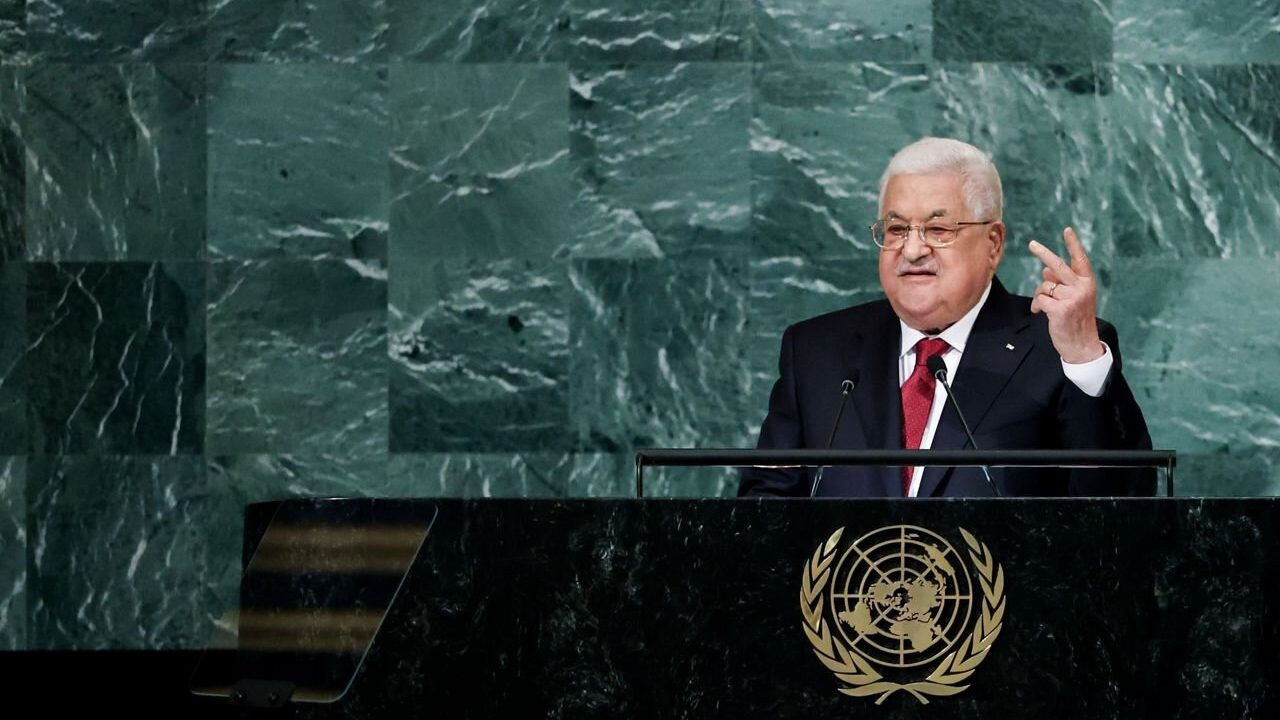 Mahmoud Abbas delivers a speech at the UN General Assembly
Mahmoud Abbas now
As of 2023, Mahmoud Abbas remains at the helm of Palestine, fulfilling his presidential duties. In May, he extended congratulatory messages to Azerbaijan's President, Ilham Aliyev, on their Independence Day, emphasizing mutual growth and stronger bilateral ties. The previous November, Aliyev had reciprocated with warm wishes for Palestine's national festivity.
June brought news of Abbas's diplomatic trip to China. He engaged in pivotal discussions with Xi Jinping, focusing on fortifying bilateral relations. Analysts speculate this could bolster China's foothold in the Middle East.
However, Palestine's actions weren't always viewed positively. October 7 witnessed Palestinian militants intruding into Israeli grounds from the Gaza Strip, leading to civilian casualties. The situation escalated with missile attacks on Israel, prompting a swift Israeli counter-operation named "Iron Swords." Israel declared a state of conflict.
On October 10, Abbas sought the UN's intervention against what he termed "Israeli aggression." Reports highlighted his conversation with UN Secretary Antonio Guterres, where he voiced concerns about a looming humanitarian crisis in Gaza due to essential shortages.
Additionally, there's buzz about Abbas's impending visit to Russia. In a media interaction, he lauded Moscow's current efforts in mediating the Palestinian-Israeli discord.
Published:
October 30, 2023
Updated:
December 10, 2023