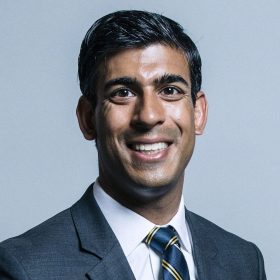 Rishi Sunak
Rishi Sunak, a UK statesman, swiftly ascended from an MP role in Richmond to the Exchequer's Chancellor within half a decade. Although he initially enjoyed widespread acclaim, he encountered challenges and saw a decline in public endorsement. After a setback against Liz Truss for the Conservative helm, he made a swift comeback, securing his position as the 7th UK Prime Minister in this century.
What we know about this person
Date of birth:
May 12, 1980
Zodiac sign:
Birthplace:
Southampton, England
Marital status:
Married to Akshata Murty
Occupation:
executive, politician, prime minister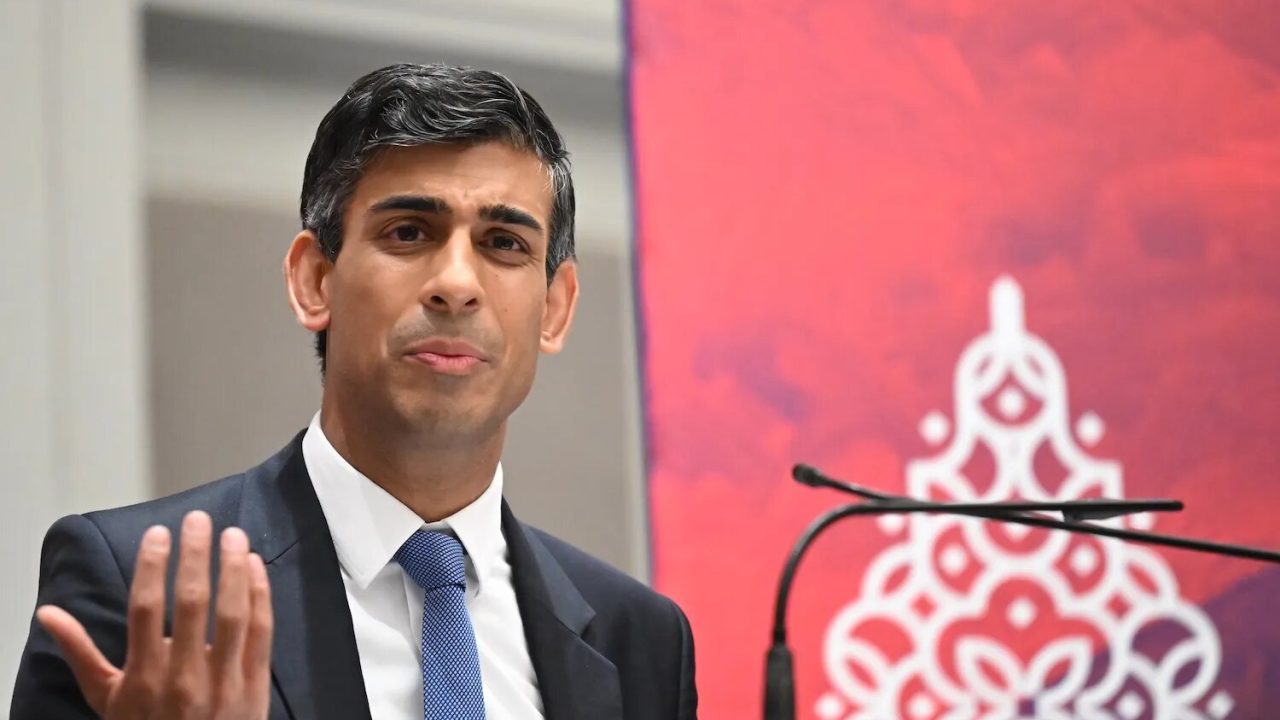 Rishi Sunak delivering a speech at the G20 summit in Indonesia
Rishi Sunak's early life and education
Born on May 12, 1980, in Southampton, England's southern region, Sunak grew alongside a younger sibling, Sanjay, and a sister, Raakhi. The Sunak lineage, with Indian roots, had migrated from British India to East Africa. Yashvir, Rishi's father and a physician, originated from Kenya, while his mother, practicing pharmacy, had Tanzanian upbringing. They relocated to Britain in the 1960s.
Rishi's educational journey was commendable. He was schooled in Hampshire, then proceeded to Winchester College, an all-boys boarding institution, taking on roles like head boy and overseeing the school's publication. He occasionally took up waiter roles during summer vacations.
Subsequently, the British-Indian pursued Philosophy, Politics, and Economics at Oxford's Lincoln College, undertook internships at the Conservative Party hub, and achieved his degree with distinction in 2001. By 2006, he secured an MBA from Stanford, being recognized as a Fulbright scholar.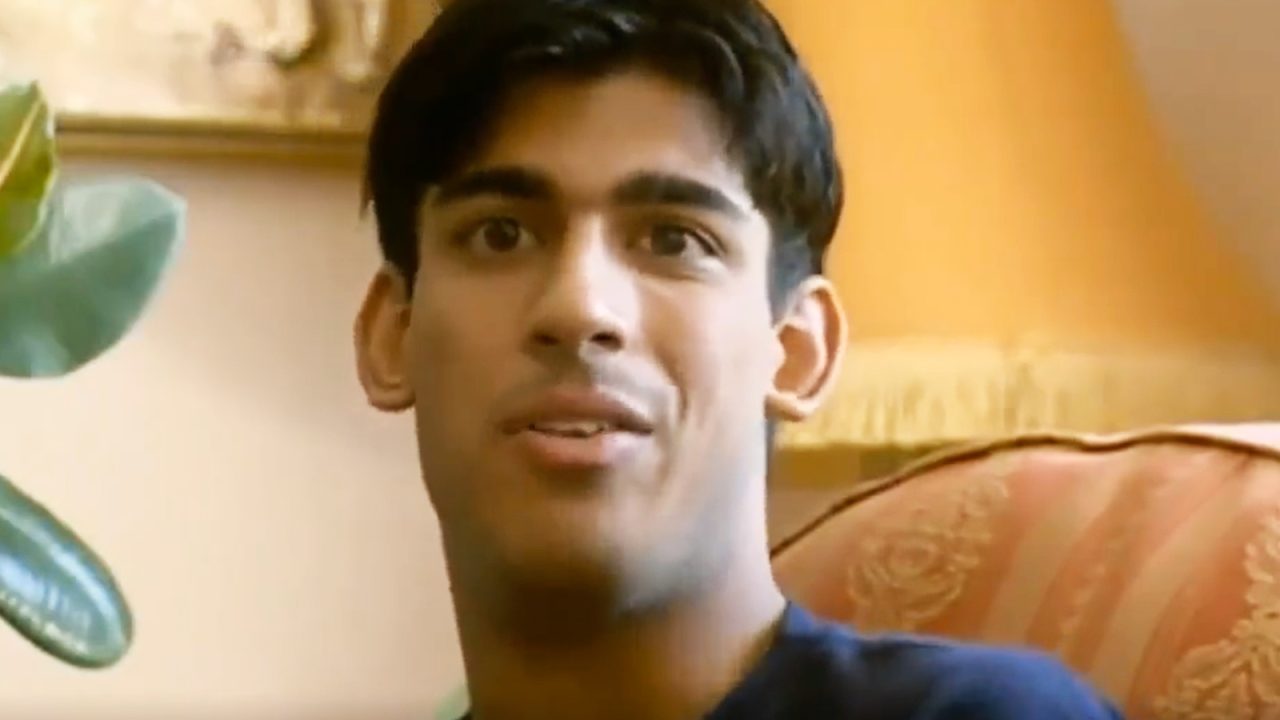 A young Rishi Sunak
Professional journey
Starting his career in 2001, Sunak joined an investment banking entity, later shifting to an investment consortium, eventually rising to a partnership role. In 2013, he initiated a venture capital enterprise alongside his spouse and her father.
By 2014, his political aspirations had ignited. A year later, he represented Richmond as a Conservative MP and became part of the House of Commons' Environment, Food, and Rural Affairs Committee. His re-election in 2017 saw him championing regional governance matters.
Supporting Boris Johnson in the 2019 polls, Sunak's efforts were rewarded when Johnson became the Prime Minister. He was designated as the Chief Secretary to the Treasury under Sajid Javid. That year also marked his third election to the House of Commons representing Richmond.
In 2020's early phase, post-Javid's departure, Sunak took over as the UK's Exchequer Chancellor. He swiftly channeled funds to counteract the pandemic's economic repercussions, aiding the service industry, safeguarding employment, and introducing various strategies.
Within a mere six months, this emerging political figure garnered immense British admiration. Some pundits drew parallels with Tony Blair's zenith days, and the press amplified his charisma. The subsequent year witnessed the Chancellor declaring a fiscal shortfall and elevating corporate levies from 19% to 25%, a first since 1974. At the G7 conference, he endorsed a pact establishing baseline taxation for global tech giants.
Rishi Sunak with former British PM Boris Johnson
Personal life
In 2009's summer season, statesman Rishi Sunak exchanged vows with Akshata Murty, offspring of the Indian magnate and Infosys conglomerate pioneer, Narayana Murthy. Their paths crossed at Stanford University. Presently, they parent two girls, Anushka and Krishna, and have a Labrador, Nova. Post-marriage, they resided in a stately home in Kirby, northern England. By 2022's spring, they transitioned to an opulent refurbished residence in West London. Additionally, they possess two London estates and a Californian penthouse.
Akshata Sunak holds 0.91% of Infosys equity, estimated at $900 million, interests in a pair of Jamie Oliver eateries, Indian outlets of the US fast-food brand Wendy's, a caregiver agency, a fitness center, and multiple enterprises. Owing to her substantial assets, surpassing even Queen Elizabeth II's wealth before her 2022 demise, Rishi emerged in the 2022 affluent Britons' list.
Yet, Akshata lacks UK residency, leading to years of tax evasion (around $24 million) and only a non-resident fee of $36,000. This fiscal discrepancy surfaced in 2022's spring, post which the magnate committed to clearing her dues. Amidst this, The Guardian labeled Sunak, who imposes taxes on average citizens but minimizes his own, a tax contradiction.
Rishi Sunak's religion is Hinduism, and he openly practices his faith. When taking his oath as a Member of Parliament, Sunak chose the Bhagavad Gita, a revered text in Hinduism.
Rishi Sunak is an avid cricket fan and has played for his college team. Apart from cricket, he also enjoys horse riding, showcasing his diverse interests in sports.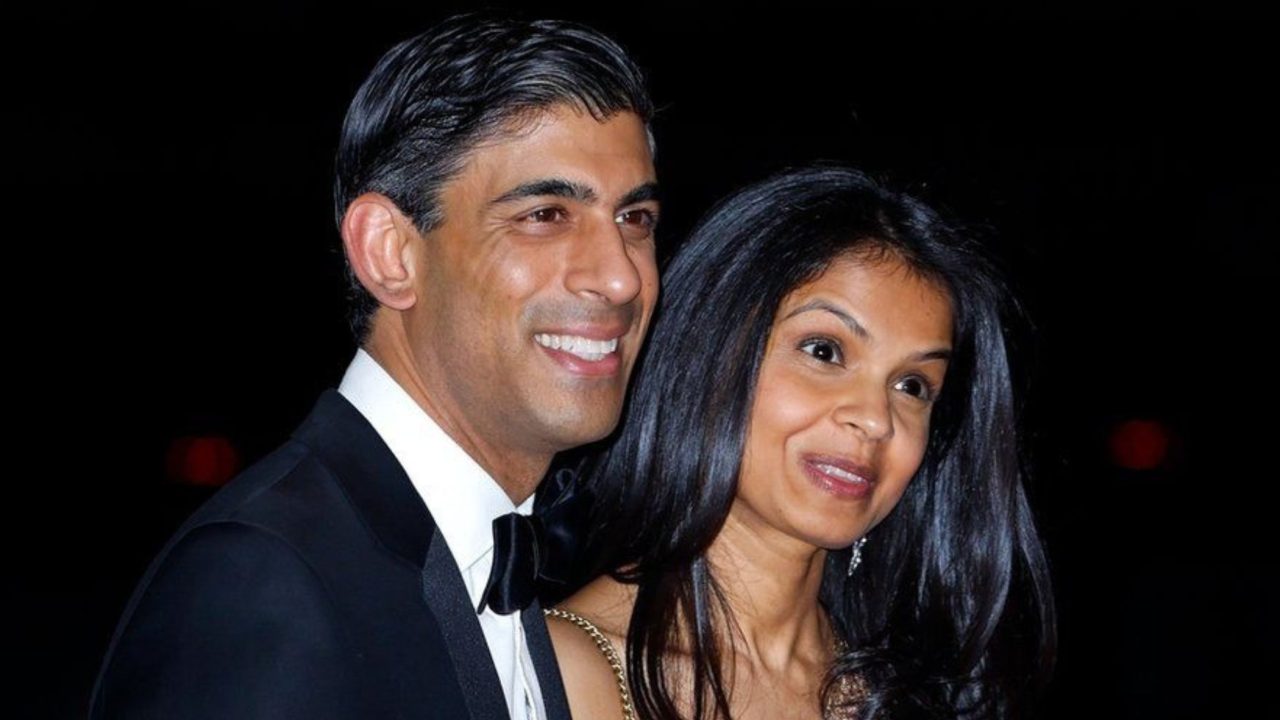 Rishi Sunak with wife Akshata Murty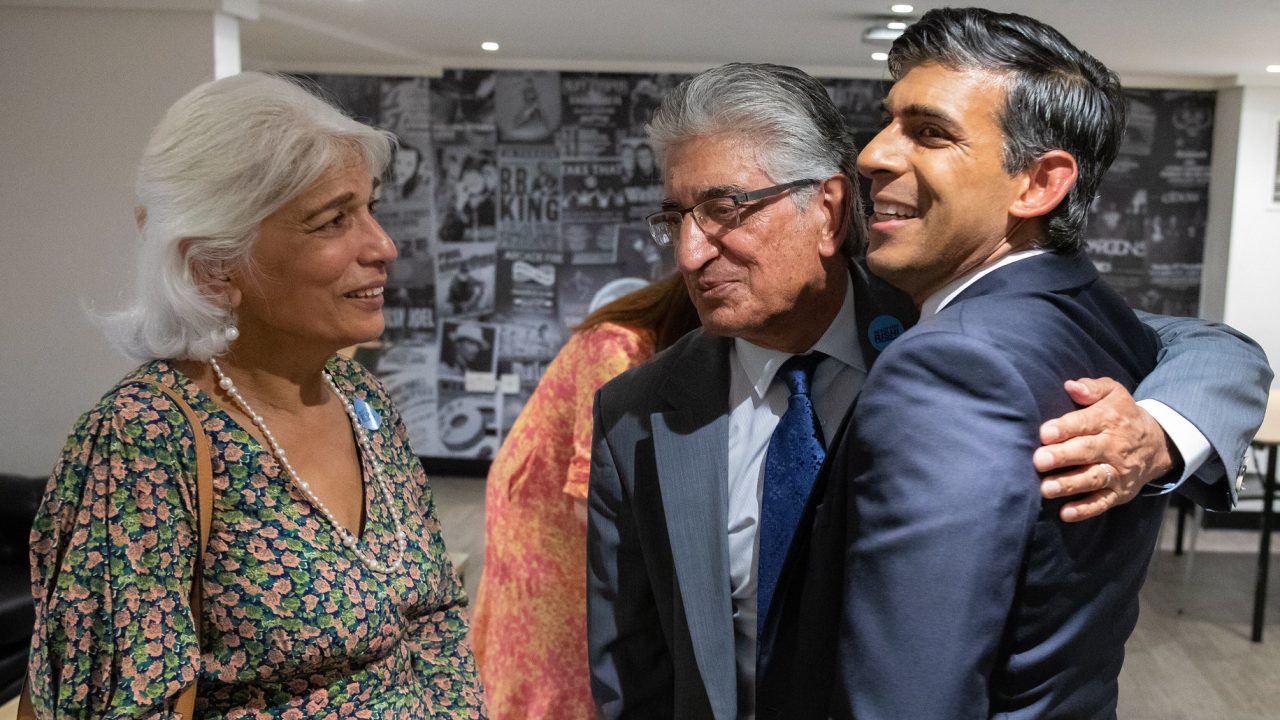 Rishi Sunak with parents
Rishi Sunak now
In 2022's spring, the Treasury Head slashed fuel tariffs, eliminated VAT on energy-efficient tools, launched a program aiding the underprivileged, and vowed to cut income tax by 2024. Yet, the tax controversy plummeted Rishi's previously positive approval to an all-time low.
A subsequent 2022 summer turmoil saw MP Chris Pincher resign post sexual harassment allegations by multiple men. Fifty other officials, including Sunak and Javid, followed suit. Boris Johnson, devoid of allies, succumbed to public demand and stepped down. The ex-Treasury Chief emerged as a potential Prime Minister successor.
After four electoral phases, Sunak led the Prime Ministerial race but was bested by Liz Truss, securing 57.4% party member votes. A 2001 BBC interview, where he made derogatory remarks about the labor class, and recent comments on ceasing extensive urban aid, worked against him.
However, during the leadership contest, Sunak accurately predicted that Truss's tax cut proposals would trigger a bond market collapse. This foresight materialized, resulting in Truss's 45-day tenure termination.
Post-Truss's exit, Sunak was again viewed as the prime Prime Ministerial contender. Ex-Prime Minister Boris Johnson hinted at a 10 Downing Street return, with ex-Defense Minister Penny Mordaunt as another competitor.
When Johnson proposed a joint venture to his competitors, he faced rejection. Consequently, Johnson surprisingly retracted his nomination, vowing to back the Sunak-Mordaunt face-off winner. Mordaunt's odds of securing 100 Conservative MP endorsements seemed slim, leading her to withdraw last-minute. Consequently, Sunak, the sole nominee, was declared the Conservative leader and the nation's Prime Minister on October 24.
On October 25, King Charles III formally designated Sunak as the UK's Prime Minister.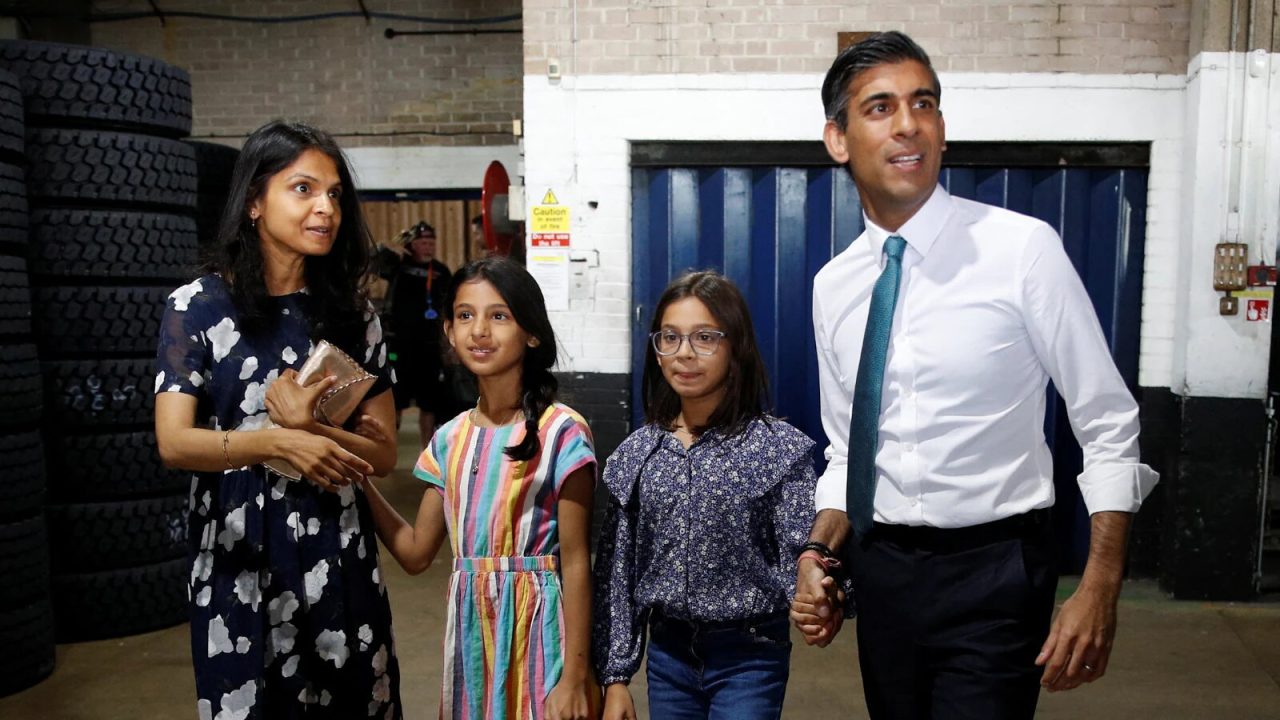 Rishi Sunak with wife and daughters
Published:
November 1, 2023
Updated:
December 10, 2023