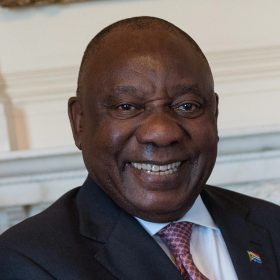 Matamela Cyril Ramaphosa
Cyril Ramaphosa's journey is deeply rooted in both politics and commerce. This eminent South African entrepreneur, statesman, public persona, and trade union advocate transitioned from an anti-apartheid campaigner to the esteemed President of South Africa. For many years, this denizen of Johannesburg held pivotal roles as the general secretary and the spearhead of the dominant political faction. Additionally, he graced the global arena as a prominent ceremonial figure, steering the African Union.
What we know about this person
Full name:
Cyril Ramaphosa
Date of birth:
November 17, 1952
Zodiac sign:
Birthplace:
Johannesburg, South Africa
Marital status:
Married to Tshepo Motsepe
Occupation:
politician, executive, president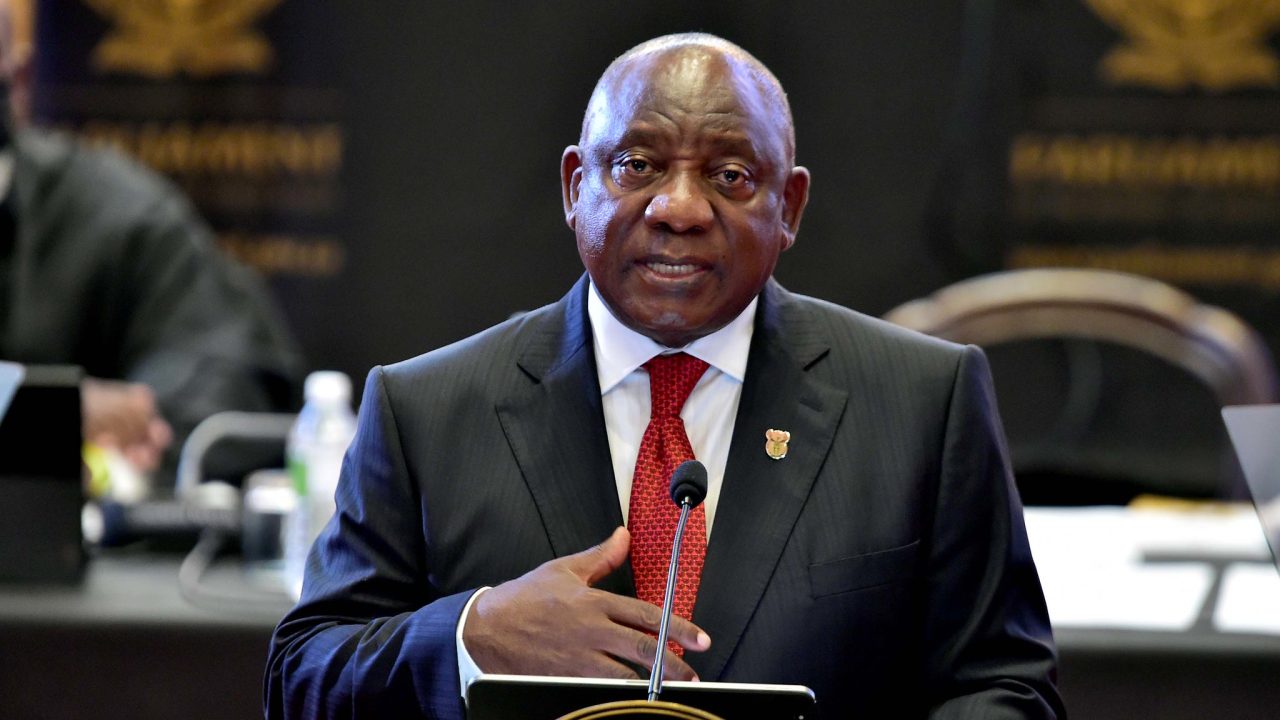 South African President Cyril Ramaphosa
Early life
Born in the autumn of 1952, Matamela Cyril Ramaphosa hailed from Soweto (South Western Township), perceived as a Johannesburg suburb. His formative years were marked by interactions with diverse ethnic groups residing in the fringes of the South African metropolis.
The budding politician was the second of three children born to Samuel Ramaphosa, a police officer, and his spouse Erdmuth, a dedicated housewife. The couple, members of the Venda tribe, resorted to illicit alcohol trade to sustain their family, given the legal constraints. Their elders, residing in the hamlet of Khalavha, were unable to offer significant aid to the young family.
A defining moment in young Ramaphosa's life occurred at age 8 when he bore witness to the oppressive clampdown on peaceful protestors rallying against apartheid. The arrival of state forces in his vicinity exposed him to the harshness of the regime. This profound animosity lingered, only diminishing once he grasped the complexities of his homeland.
His life regained semblance of normalcy upon relocating to the burgeoning suburb of Soweto. This move afforded him access to primary education, followed by secondary schooling. During his high school years, Cyril, a devout Christian, exhibited a keen interest in theology, arts, and eloquence. This passion for oratory paved the way for his university education, culminating in a law degree.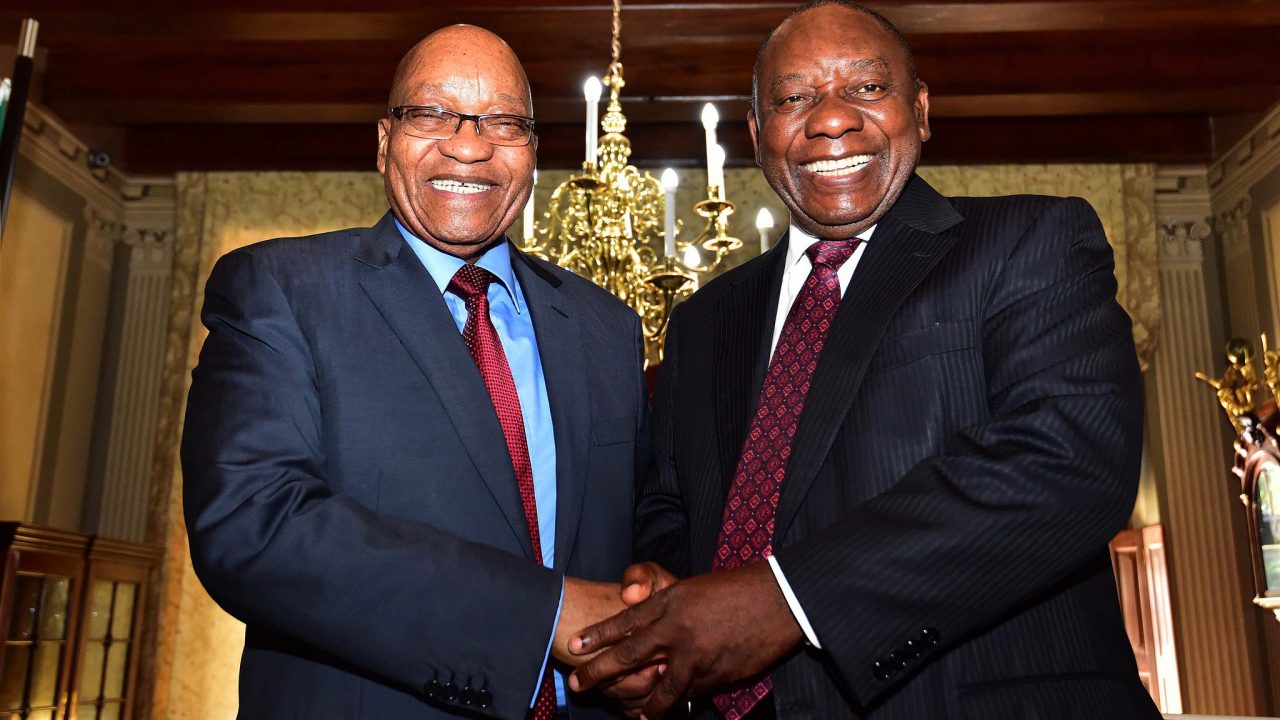 Cyril Ramaphosa and Jacob Zuma, former South African President, shaking hands
Career and politics
Ramaphosa's younger days saw him ardently opposing apartheid. His political odyssey commenced as a grassroots member, eventually ascending to the helm of the university's student body and Christian association. His activism in the 1970s, characterized by participation in unsanctioned gatherings and affiliation with the Black People's Convention, led to an extended solitary confinement.
In 1977, Cyril opted to leverage his academic credentials, affiliating with a legal firm in Johannesburg. Concurrently, he championed the representative council at his alma mater and began mentoring an association encompassing miners and other laborers. Over the years, this lawman's son clinched a top-tier position within the union.
The 1980s saw Ramaphosa forging ties with a coalition of trade union assemblies and communist factions, aligning himself with socialist ideologies. Surmounting numerous obstacles, he transformed his union into the nation's most formidable and continued his political climb.
The subsequent decade heralded transformative shifts with the abolition of apartheid and the ascendancy of human rights advocate Nelson Mandela. In this renewed political landscape, Ramaphosa, an ANC (African National Congress) affiliate, played a pivotal role in pre-electoral preparations and secured a parliamentary seat.
He was instrumental in endorsing constitutional clauses, addressing pivotal subjects like official languages, education, capital punishment, reproductive rights, marriage equality, labor, and land rights. His meteoric rise within the party ranks led him to the office of the general secretary.
While many envisioned Cyril as Mandela's heir apparent, the mantle of ANC leadership passed to Thabo Mbeki. This turn of events prompted the Johannesburg-born Ramaphosa to pivot to the corporate world, integrating into Nthato Motlana's media conglomerate, helming corporate boards, spearheading investment ventures, and participating in governmental panels.
The new millennium saw Ramaphosa gracing international platforms, attending global symposiums, and engaging in diplomatic endeavors. The early part of the 2010s marked his bid for the ANC's vice-presidency, which he secured. Subsequently, he assumed a legislative role and, aligning with the nation's premier, Jacob Zuma, was appointed South Africa's Vice President, overseeing economic affairs.
The twilight of the 2010s was a period of transition for the nation. In this backdrop, Cyril engaged in dialogues with the president, advocating his abdication. Recognized as the sole viable successor, Ramaphosa assumed the presidential mantle in February 2018.
Under his leadership, the legislative body introduced a slew of reforms pertaining to land rights, labor policies, and economic strategies, bolstering the confidence of both entrepreneurs and the general populace in the administration. Commanding widespread approval, the South African president showcased his dynamism and vitality. In 2019, his party peers reaffirmed Cyril's position as the ANC's chairman.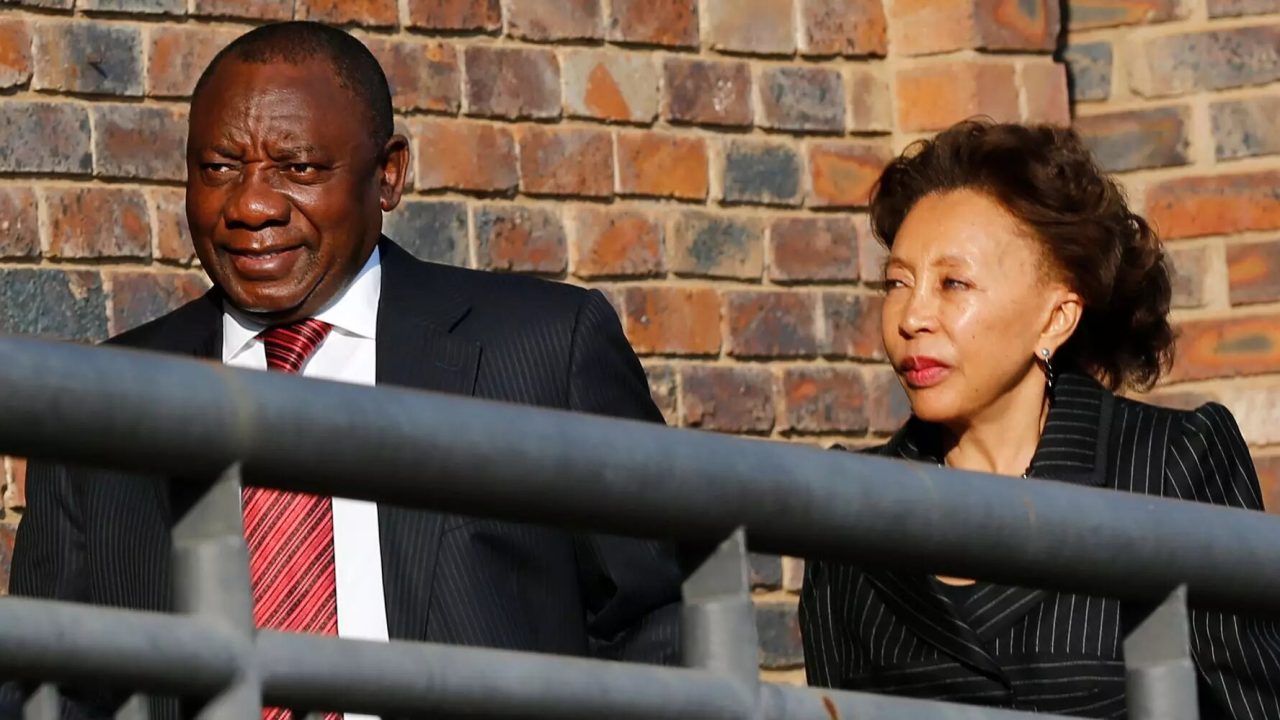 Cyril Ramaphosa with wife Tshepo Motsepe
Personal life
The intricacies of Ramaphosa's private life remain largely shielded from public scrutiny. The South African leader's initial matrimonial alliances, first with Hope Ramaphosa and subsequently with entrepreneur Nomazizi Mtshotshisa, culminated in separations. Cyril's current spouse is Tshepo, kin to the renowned South African magnate Patrice Motsepe. The statesman is acknowledged to be a father to a minimum of five offspring.
Towards the end of the 2010s, allegations surfaced insinuating the South African premier's involvement in an extramarital liaison. Civic entities expressed their disapproval of such perceived ethical transgressions, which cast a shadow on his public image. Nevertheless, Cyril succeeded in preserving his stature and the confidence of the power elite.
In the year 2021, South Africa found itself at the vortex of the outbreak of a novel coronavirus variant. As per communications via the Republic's official Twitter handle, the president was diagnosed with the "Omicron" strain, yet fortunately evaded severe health repercussions.
On 6th March 2023, Cyril Ramaphosa announced a significant cabinet reshuffle. He introduced two new ministries centered on electricity and planning to address national challenges like load shedding and rising unemployment. Mr. Paul Mashatile was named the new Deputy President. Ramaphosa's adjustments aim to tackle urgent socio-economic concerns and boost government efficiency.
Published:
October 11, 2023
Updated:
December 10, 2023