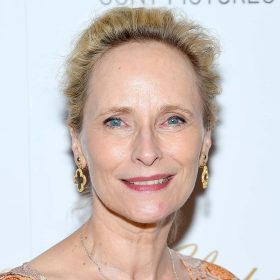 Laila Robins
Laila Robins, an American actress with Latvian heritage, is recognized for her portrayals as Susan in the comedy "Planes, Trains and Automobiles," Rachel in the movie "Live Nude Girls," Katarina Rostova in the TV show "The Blacklist," and Martha Boyd in the psychological series "Homeland," among various other roles.
What we know about this person
Date of birth:
March 14, 1959
Zodiac sign:
Birthplace:
St. Paul, Minnesota, USA
Marital status:
Married to Robert Cuccioli
Early life
Laila Robins was born on March 14, 1959 in St. Paul, Minnesota, USA, into a Latvian immigrant family with her parents Brigita (née Švarcs) and Jānis, whose last name was originally Robiņš. Her father worked as a chemist and was involved in research. Growing up alongside her three sisters, Diana, Zaiga, and Baiba, Laila developed a love for singing and performing in front of audiences. As she grew older, she also developed a passion for traveling.
Laila earned her undergraduate degree from the University of Wisconsin-Eau Claire and pursued further education at the Yale School of Drama, achieving a Master of Fine Arts degree. She cherishes the color red, and her beloved pet is a dog. According to the actress, Paris is the most enchanting city she has encountered. One of her favorite movies is the comedy "Planes, Trains and Automobiles," where she portrayed the lead role. Laila Robins' estimated net worth is around $6 million.
Career
Laila Robins began her acting journey on the theatrical stage, making her debut in 1984 at the age of 23 in the Broadway production of "The Real Thing." Since then, she has graced more than 83 films and television series, portraying numerous characters on the stages of various small theaters. Laila has been offered both minor and leading roles, showcasing her versatile acting skills. Her first feature film was the comedy "Planes, Trains and Automobiles."
To this day, she considers this John Hughes film her favorite. In the movie, Robins portrayed Susan Page, the wife of the main character, Neal, played by a successful advertising executive who is rushing to get home for Thanksgiving and longs to be with his family in the warmth of their comfort. However, fate seems to be against him, and his travel companion becomes the comically absurd traveling salesman, Del Griffith.
The film from the creator of "Home Alone" and "Curly Sue" was hailed by Russian audiences as one of the best American pictures. The wonderful chemistry between Steve Martin and John Candy was beautifully complemented by the newcomer to the film, Laila. She was once again offered a major role in the intense action film "An Innocent Man," directed by Peter Yates.
The story revolves around a successful young man who is unjustly imprisoned, derailing his idyllic life as an aircraft engineer and throwing him into a harsh reality where survival is the only option. Determined to regain his freedom, he faces corrupt police officers who must be held accountable for their actions. In this film, Laila's co-stars are also notable drama masters, Tom Selleck and F. Murray Abraham.
Laila Robins' comic talent caught the attention of producers, leading to her next film, the British-American mixed comedy and melodrama titled "Welcome Home, Roxy Carmichael," directed by Jim Abrahams. In this film, she shared the screen with Winona Ryder and Jeff Daniels. Five years later, she appeared in the comedy "Live Nude Girls," where the story revolves around girlfriends gathering before one of their weddings. Here, Robins worked alongside Dana Delany and "Sex and the City" star Kim Cattrall.
In addition to these projects, she also took on occasional and guest roles in crime series like "Law & Order," "Law & Order: Special Victims Unit," and "The Sopranos," as well as the mystical show "Witchblade."
In 2004, Laila Robins appeared in the popular comedy series "Sex and the City." Throughout her career, she had the opportunity to work with prominent actors like Matt Damon, Robert De Niro, Angelina Jolie, and Alec Baldwin. One of her notable projects was the thriller "The Good Shepherd," directed by De Niro himself. The film revolves around Edward Wilson, loosely based on the CIA founder James Angleton.
"The Good Shepherd" received mixed reviews from both critics and audiences, with opinions ranging from labeling it as a "drag" and a "failure" to considering it as De Niro's debut masterpiece. Unfortunately, commercially, it didn't perform as expected, grossing $100,266,865 against an $85 million budget. In the historical series "Too Big to Fail," Robins portrayed French finance minister Christine Lagarde, and her "Sex and the City" co-star Cynthia Nixon played Assistant Minister of Finance Michelle Davis.
In 2013, Laila Robins took on an intriguing role in Steven Soderbergh's psychological thriller "Side Effects." In this film, she portrayed a character named Emily, who was dealing with suicidal tendencies. The 44-year-old actress shared the screen with talented actors such as Rooney Mara, Catherine Zeta-Jones, Channing Tatum, and Jude Law. "Side Effects" received acclaim from critics, with reviews describing it as a clever and skillful thriller with numerous unsettling twists, as highlighted in the aggregator Rotten Tomatoes' review.
In 2021 and 2022, Laila Robins took on the challenging role of Pamela Milton in the hit series "The Walking Dead." As the charismatic leader of the Commonwealth, a formidable community that emerged in the post-apocalyptic world, Laila brought an air of authority and complexity to the character.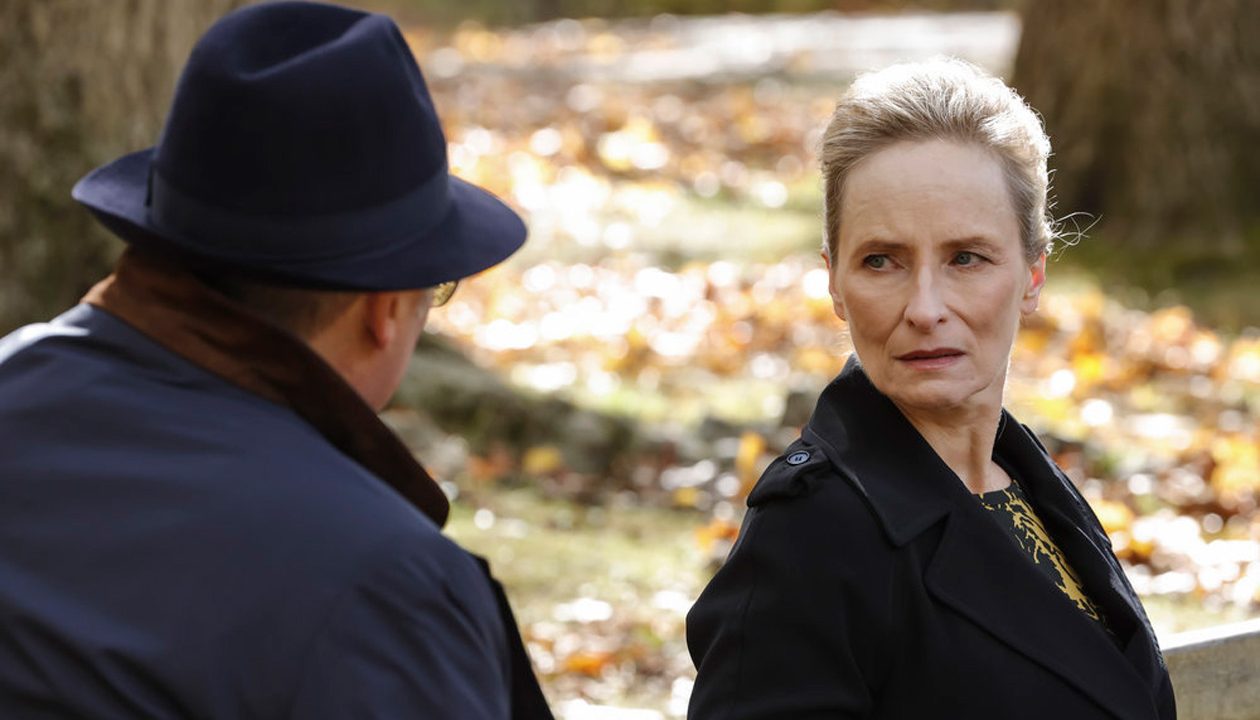 Laila Robins in Blacklist
Laila Robins Movies and TV Shows
2021–2023

Dr. Death

Amy Piel

2019–...

The Boys

Colonel Grace Mallory

2018–...

New Amsterdam (episode "Every Last Minute")

Mrs. Ryland

2017–...

The Handmaid's Tale (episode "Useful")

Pamela Joy

2013–2023

The Blacklist

Katarina Rostova

2013

Side Effects

Banks partner #2

2011–2020

Homeland

Martha Boyd

2010–2022

The Walking Dead

Pamela Milton

1999–2007

The Sopranos

Young Livia Soprano

1998–2004

Sex and the City (episode "The Cold War")

Audra Clark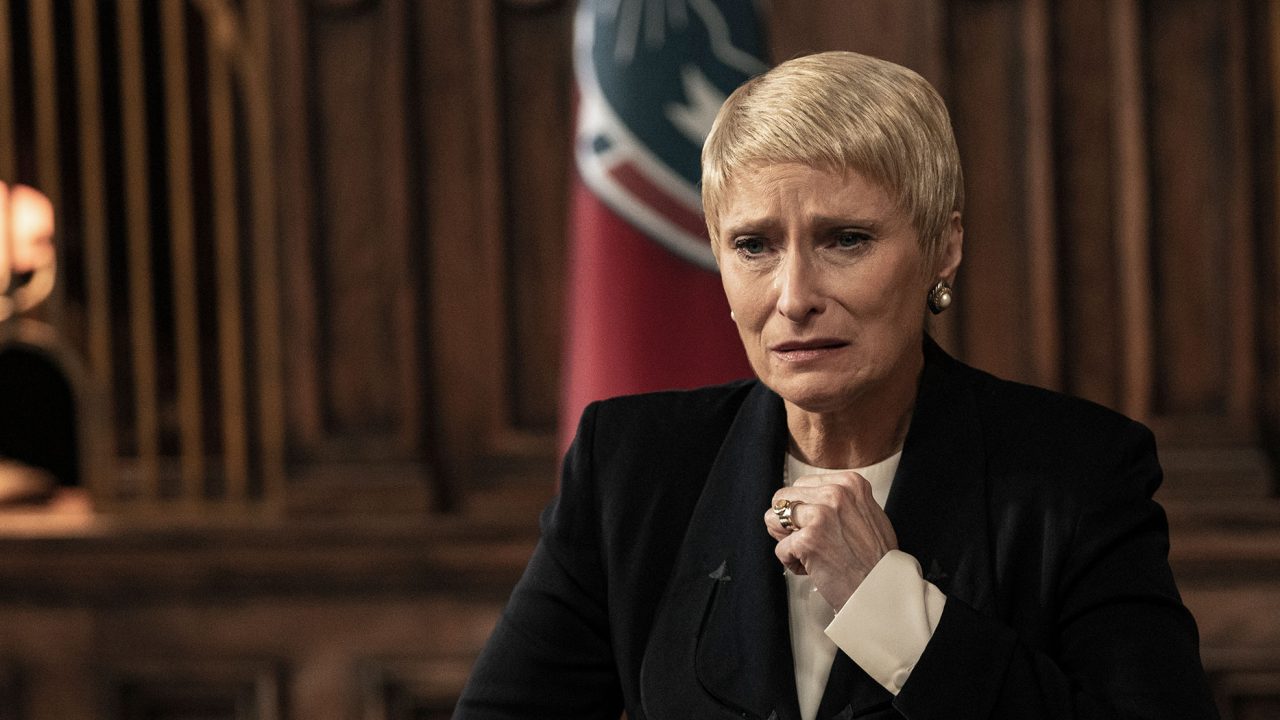 Laila Robins in The Walking Dead
Laila Robins' personal life and family
Laila Robins is known for being a private person, sharing little about her personal life. However, it is known that she has been married to the talented actor and singer Robert Cuccioli since 2000. Robert is renowned for his exceptional performances in musicals, earning him nominations for prestigious awards. Information about any children the couple may have remains undisclosed. At 63 years old, Laila remains active on social media platforms, despite her reserved nature.
Laila Robins now
Laila Robins has remained in high demand in recent years and continues to be a prominent figure in the entertainment industry. In 2021, she portrayed the character of CIA Director Suri Nance in the detective series "The Equalizer." With her high forehead and shrewd eyes, Laila often gets offered roles as intelligent women in positions of authority, which she adeptly brings to life on screen. The show revolves around the adventures of the strong-willed single mother, Robyn McCall, portrayed by the charismatic Queen Latifah.
From 2021 to 2023, Laila was involved in a minor role in the beloved Russian series "Dr. Death," alongside Alec Baldwin and Joshua Jackson, where she played a part in this gripping narrative based on the true story of American neurosurgeon Christopher Duntsch, whose actions led to fatalities and severe injuries to his patients. In 2022, she lent her voice to a character in the animated film "My Love Affair with Marriage," a collaborative project between American and Latvian creators, directed by Signe Baumane.
Looking ahead to 2023, Laila's fans can anticipate her appearance in new films. Notably, she will be featured in the biographical series "The Crowded Room," alongside Tom Holland, Amanda Seyfried, Christopher Abbott, and Levon Thurman-Hawke, taking on compelling roles in this upcoming production.
Updated:
December 10, 2023