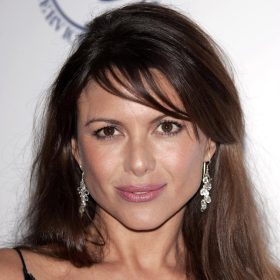 Kari Samantha Wuhrer
Kari Wuhrer, a multi-talented American actress, TV host, model, and singer with German and Cherokee heritage, started her path to fame in 1986. She achieved notable success for her roles in movies such as "Anaconda" and "Boulevard." Additionally, she is recognized in the gaming community for portraying the character Tanya Adams, a special agent of the Allies, in the popular "Command & Conquer" video game series.
What we know about this person
Full name:
Kari Samantha Wuhrer
Date of birth:
April 28, 1967
Zodiac sign:
Birthplace:
Brookfield, Wisconsin, USA
Occupation:
actress, singer
Early life
Kari Samantha Wuhrer, born on April 28, 1967, in Brookfield, hails from a family of diverse backgrounds, with German and Native American ancestry, which adds to her captivating features, including striking cheekbones and a self-assured gaze. From her early years, Kari's ambition to shine on stage was evident as she attended a school of dramatic arts and performed in nightclubs, all while keeping it a secret from her parents.
At 16, she convinced her mother to support her dreams, leading to her first modeling contracts and involvement in local theater. Kari has always known she wanted to make her mark in the world of entertainment, and with her unique heritage and talent, she has embraced acting, hosting, modeling, and singing to become a versatile and successful American actress, TV host, model, and singer.
Music and TV
Kari's dynamic career in television began with her debut as a TV host on the show "Remote Control." Her success on this show opened new opportunities, leading her to join MTV as a VJ and co-host a show with none other than Adam Sandler. Alongside her television work, she pursued a modeling career and graced the cover of Playboy magazine, thanks to her captivating looks.
Despite the decent income from her work on the music channel, Kari didn't forget her dream of becoming a trained actress. She managed to combine her TV work with studies at the acting faculty of New York University. There, she attended courses by renowned acting teacher Uta Hagen and also received training at the Royal Academy of Dramatic Art in London.
In 1999, Kari Wuhrer ventured into the music world and released her first solo album, titled "Shiny." Displaying her vocal prowess, she also took on the role of a songwriter, penning most of the songs herself. Additionally, she showcased her instrumental skills, playing the guitar and flute in several tracks. While "Shiny" remains her only album to date, her captivating figure and attractive face with childlike features have further contributed to her popularity in the entertainment industry.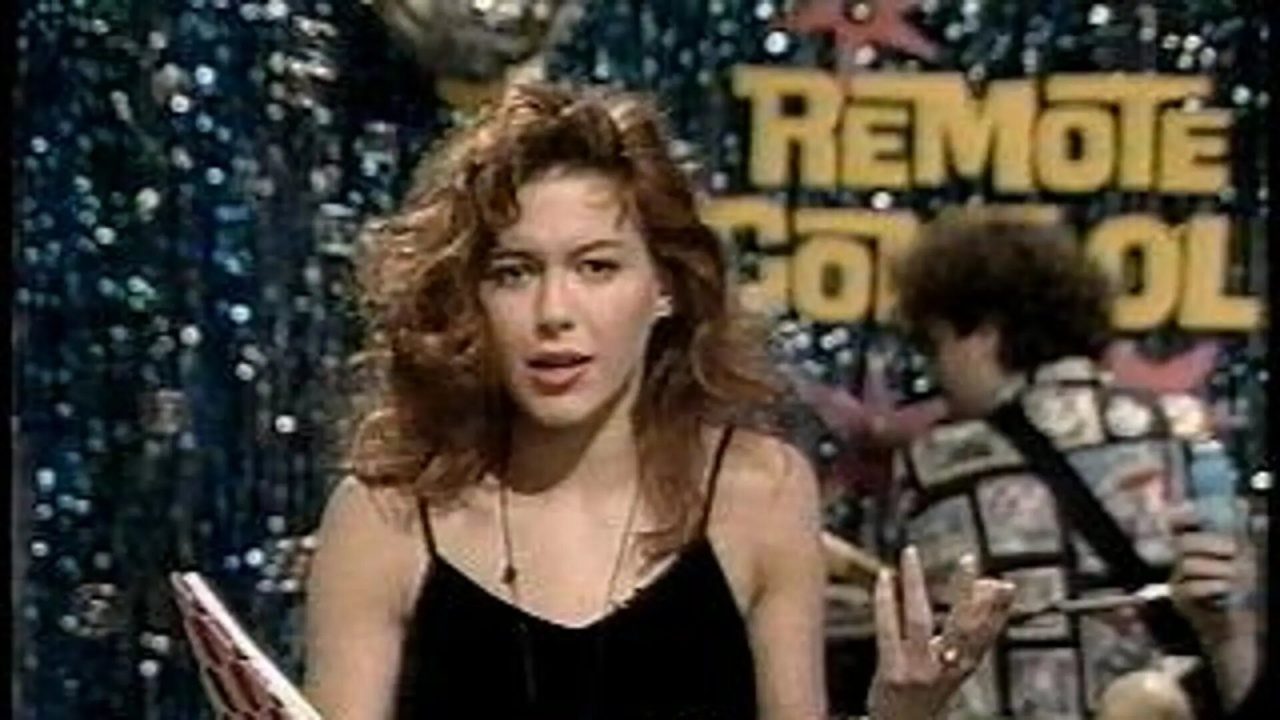 Kari Wuhrer hosting the Remote Control show
Early roles
Kari Wuhrer's success as a VJ not only brought her fame but also paved the way for her entry into the film industry. Her early career included notable appearances in TV shows like "Married… with Children" and "Swamp Thing." Additionally, she made her mark in feature films such as "Anaconda," "Kate's Addiction," "Angels Don't Sleep Here," and thrilling projects like "Leverage" and "The Avengers: Earth's Mightiest Heroes" (voice acting).
In the drama "Boulevard," directed by Penelope Buitenhuis, Kari Wuhrer took on the lead role of Jennifer. The film's opening scenes depict her escape from an abusive relationship, leaving her baby in the care of others as she flees to another city. Along her journey, she encounters Ola, a street hustler, and both women face harrowing challenges, including confrontations with Jennifer's vengeful ex-boyfriend and a dangerous pimp named Hassan. Rae Dawn Chong and Lou Diamond Phillips also starred in the film. As Jennifer, Kari portrayed a socially vulnerable woman fighting for her right to life, relying mainly on her fragile friendship with Ola.
Kari Samantha Wuhrer Movies and TV Shows
2008–2012

Leverage (episode "The Reunion Job")

Miranda Miles

2007

The Air I Breathe

Correspondent

2004–2009

Stargate Atlantis (episode "Outcast")

Nancy Sheppard

2002–2012

CSI: Miami (episode "If Looks Could Kill")

Janet Sterling

2000–2015

CSI: Crime Scene Investigation (episode "Cross Jurisdictions")

Tiffany Langer

1997

Anaconda

Denise Kalberg

1996

Thinner

Gina Lempke

1995–2000

Sliders

Maggie Beckett

1990–2000

Beverly Hills, 90210

Ariel Hunter

1987–1997

Married… with Children (episodes "Kelly Does Hollywood: Part 1", "Kelly Does Hollywood: Part 2")

Joanie
Talk Shows
2002

The Oprah Winfrey Show

Role: Guest

2002

The Late Late Show with Craig Kilborn

Role: Guest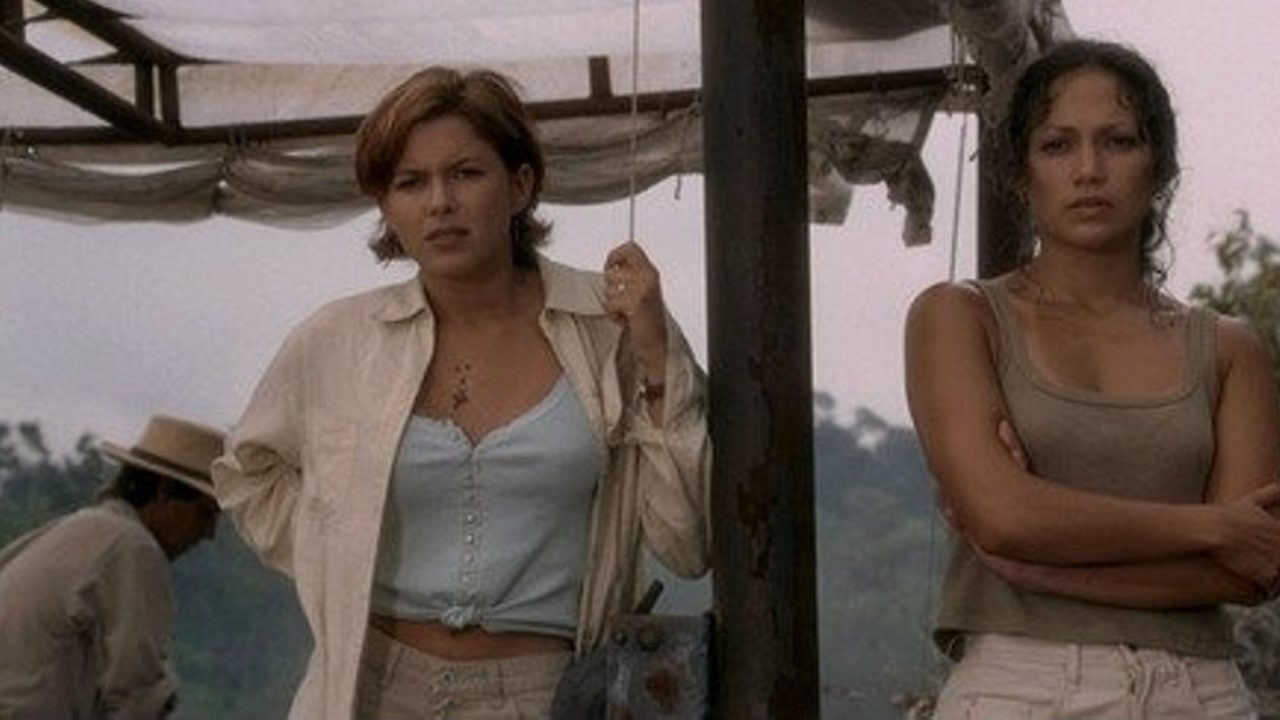 Kari Wuhrer (left) and Jennifer Lopez in Anaconda
Filming "Anaconda"
Kari Wuhrer found herself predominantly in low-budget projects, where directors often emphasized her physical attractiveness, leading to scenes with partial nudity. However, Wuhrer embraced her body as an asset and had no reservations about showcasing it on screen. Notably, she portrayed Gina Lempke in "Thinner" and earned the moniker "queen of independent cinema."
Despite her dedication to independent films, many of her works went unnoticed by film enthusiasts. Nevertheless, she had a significant role in the horror film "Anaconda." This relatively large-scale project with a $45 million budget grossed an impressive $136,885,767 at the box office, garnering a favorable response from audiences, although critics remained critical of the film.
In "Anaconda," Kari Wuhrer played the character Denise Kalberg, part of a star-studded cast that included Jennifer Lopez, Jon Voight, Eric Stoltz, Jonathan Hyde, Owen Wilson, and Ice Cube. The film follows a television crew's expedition on the Amazon River in search of lost Indian tribes. As they encounter a crazed hunter warning them about a giant snake living in the waters, their adventure turns into a fight for survival.
Directed by Luis Llosa, the 1997 horror film received acclaim for its stunning nature shots and excellent cinematography. Wuhrer's performance earned her nominations for the Saturn Award twice. To this day, this thrilling snake-themed movie remains one of the best, captivating audiences with its gripping plot and memorable performances.
Video games
Kari Wuhrer's image extended to the gaming world, where she portrayed special agent Tanya Adams in "Command & Conquer: Red Alert 2" and its expansion, "Command & Conquer: Yuri's Revenge." As Tanya, the elite soldier, she navigated the absurdity of the scripts, appearing in a provocative top, impeccably styled with makeup and hair, even during wartime.
In the role-playing game "Marvel Heroes," Wuhrer lent her voice to Maria Hill, an agent and former director of S.H.I.E.L.D., who appeared as a supporting character in the Avengers series. Prior to this project, she had already acquainted herself with her character, providing the voice for Maria in the animated series "The Avengers: Earth's Mightiest Heroes," where she served as Nick Fury's assistant, voiced by Alex Desert. Wuhrer's versatility as an actress brought these gaming experiences to life.
Kari Wuhrer's personal life and family
Kari Wuhrer's personal life has seen ups and downs. She was married twice, first to Daniel Salin in 1995, which lasted for four years, and then to producer James Scura in 2003. With James, she shares the joy of parenting three children: Enzo, Evangeline Lotus, and Echo Luna, making for a contented family.
Kari's life has not been without challenges, and she found herself in the spotlight for various scandals. One notable incident involved breast implants, which she had to remove in 2002 following medical advice. The decision came after one implant encapsulated during the filming of "Spider's Web," alongside other actors. In candid interviews with Oprah Winfrey and Glamour magazine, Wuhrer disclosed that she had undergone breast enlargement under pressure from a prominent producer.
Kari Wuhrer now
Following her role in "General Hospital" in 2005, Kari Wuhrer's career faced a decline when her character, FBI agent Reese Marshall, was written out of the show a few months later. In 2006, she filed a lawsuit against the show's creators, alleging that her dismissal was due to her pregnancy. Since 2010, her on-screen appearances have been infrequent, but she continues to receive offers for voice acting in animated films based on comics.
As of spring 2022, Kari Wuhrer celebrated her 55th birthday and still retains her attractiveness, although she has undergone some surgical procedures in the past. While she used to focus on beauty enhancements for her body, she has regretfully entrusted doctors with her face in recent years. Unfortunately, the results were not as desired, leaving an unnatural appearance that can be noticed by keen observers.
Updated:
December 10, 2023