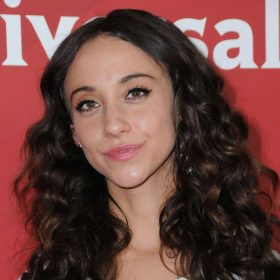 Stella Maeve Johnston
Stella Maeve is a renowned actress from the United States. She rose to prominence due to her portrayal of Sandy West, a rock vocalist and drummer who co-founded The Runaways band with Joan Jett, in the 2010 movie "The Runaways". This biographical drama is inspired by the storyline of "Neon Angel: A Memoir of a Runaway", a book authored by Cherie Currie, the lead vocalist of The Runaways. She outperformed 500 other applicants to secure this role. Her acting credits also include popular TV shows like "Gossip Girl", "Law & Order", and "House M.D.".
What we know about this person
Full name:
Stella Maeve Johnston
Date of birth:
November 14, 1989
Zodiac sign:
Birthplace:
Nyack, New York, USA
Marital status:
Married to Benjamin Wadsworth
Early life
Born as Stella Maeve Johnston on November 14, 1989, in the village of Nyack, USA, she spent her formative years in New York. Little is known about her early years, parents, or siblings. While most sources identify her as American, Stella Maeve has claimed her heritage from the Cherokee and Blackfoot tribes. She completed her education in New York.
Pictures of Stella's mother can be found online. On November 13, 2021, a day before her 32nd birthday, the actress shared a throwback picture of herself as a toddler in a cute red jumpsuit. In the photo, she appears to be around 2 years old. She is being held by a woman in a white sweater, who bears a striking resemblance to the grown-up Stella, except for her light-colored hair, while Stella is a brunette with brown eyes.
Career
Stella Maeve's acting journey began in 2005 with her role as Kat in the short film "Liminality". This drama narrates the story of two girls' transition to adulthood and their relationships. Her co-stars on the set were Stephen Baldwin and Valentina de Angelis. That same year, she was featured in the much-talked-about comedy-adventure film "Transamerica", directed by Duncan Tucker.
Despite a modest budget of 1 million dollars, the film grossed over 15 million and garnered numerous accolades. The narrative, which revolves around a transgender individual saving their son, was warmly received by audiences and critics alike. The primary accolades were awarded to the lead actors – Felicity Huffman, Kevin Zegers, and first-time director Tucker. This film's resounding success significantly boosted Stella's nascent acting career.
That same year, Stella was cast in two episodes of popular TV series: "Law & Order" and "Law & Order: Special Victims Unit". The following year, she returned to short films. She co-starred with Jack Mulcahy and Alison Bartlett in the comedy horror film "Euthanasia". However, she was often cast in single-episode roles in long-term projects.
She made appearances in TV series like "The Bronx is Burning" (2007), "CSI: Crime Scene Investigation" (2009), "Rizzoli & Isles" (2014), and "Grey's Anatomy" (2012). In "Gossip Girl", Maeve was seen in two episodes (2008-2009) as Emma Boardman. In 2010, she joined the cast of the popular project "Bones", portraying the character of Amber Flaire. That same year, she was listed among the 55 future actors by the American Nylon Magazine.
From this point, her career transitioned from episodic appearances to main, leading, and recurring roles. In 2013, the crime drama TV series "Golden Boy" by Nicholas Wootton was released. Stella landed the lead role in it, playing Agnes Clark, Walter's younger sister. The series chronicles the meteoric career rise of an ambitious cop who becomes the youngest police commissioner in New York.
In the police TV series "Chicago P.D.", Maeve was featured in 2014-2015. She portrayed the recurring character of Nadia Decotis in 18 episodes. At 25, Stella played an 18-year-old escort and drug addict. As per the storyline, her character undergoes a radical transformation – she recovers from harmful addictions and even trains to become a police officer. Interestingly, Nadia reappears in the project a year later.
Stella was part of 3 episodes of "Law & Order: Special Victims Unit" – the first spin-off of "Chicago P.D.". Here, her character Nadia's storyline continues. But one of Maeve's most significant roles in TV projects is Julia Wicker in the fantasy detective "The Magicians". Stella's character is a friend of the protagonist Quentin, who is not accepted at Brakebills. Instead, she becomes a protege of self-taught magicians.
The plot revolves around students in contemporary New York who discover that the magical world they read about in children's books is not only real but also decidedly dangerous. The TV film was broadcast for 5 years – from 2015 to 2020. The film received 4 "Saturn" awards as the "Best Fantasy Series". However, the UBCP/ACTRA Awards for the best female role was awarded to Keegan Connor Tracy (Professor Lipson).
Main role
Stella Maeve made her debut in 2005, but her first brush with fame came in 2010 – after the biopic "The Runaways" directed by Floria Sigismondi. The film narrates the story of the rock band "The Runaways" and its famous members: Joan Jett, Cherie Currie, Sandy West, and Marie Currie, who idolized David Bowie. Stella's character is drummer Sandy. The film was well-received by audiences.
Viewers particularly appreciated Kristen Stewart, Dakota Fanning, and the depiction of the wild 1970s with its harshness, liberation, alcohol-fueled parties, style, and the sound of creaking leather jackets and pants throughout the film. Despite a budget of 10 million dollars, the film grossed just over 4 million in distribution, but this did not diminish its quality.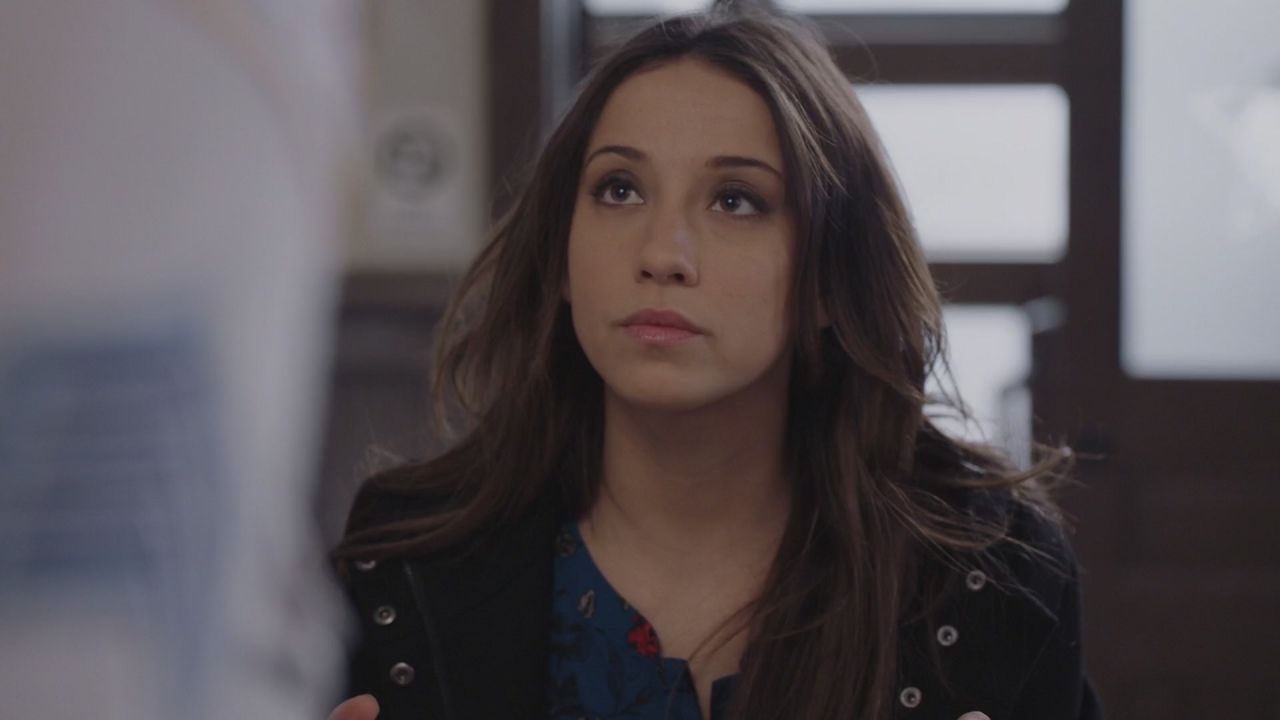 Stella Maeve in Chicago P.D.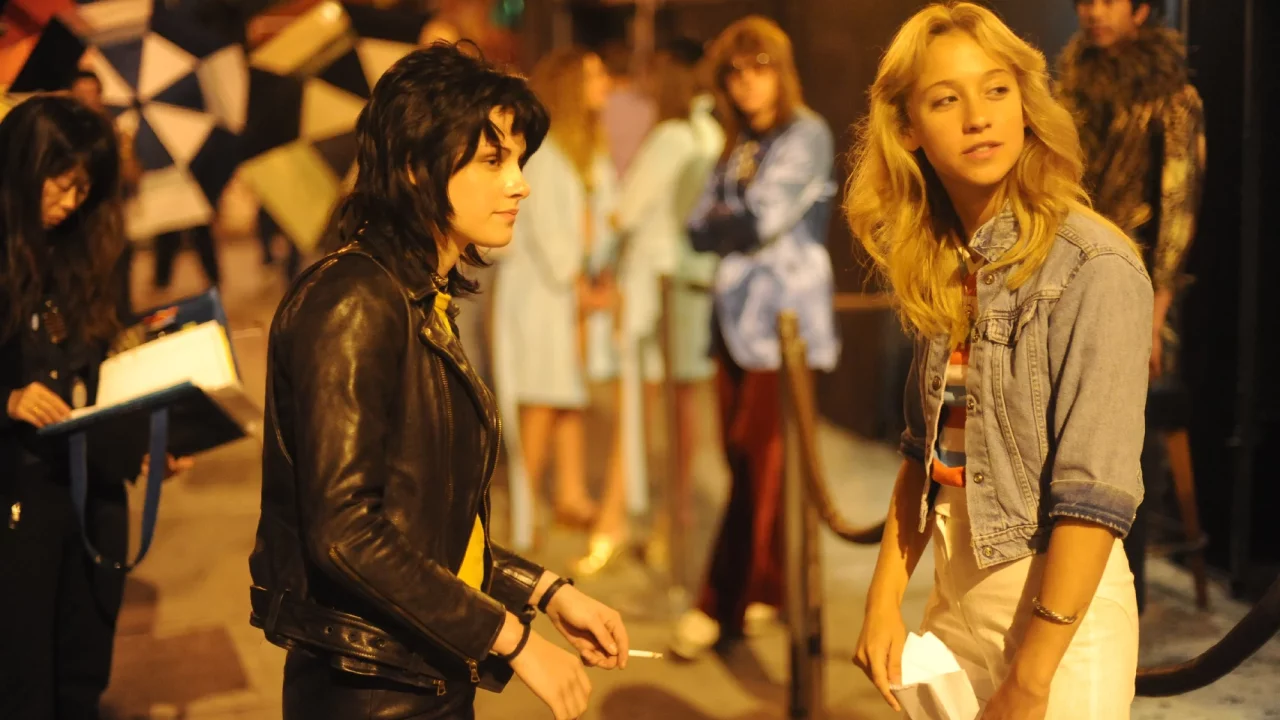 Stella Maeve (on the right) and Kristen Stewart in The Runaways
Stella Maeve Johnston Movies and TV Shows
2022–2023

Mayans M.C.

Kody / Katie McNeil

2015–2020

The Magicians

Julia Wicker

2014–...

Chicago P.D

Nadia Decotis

2010–2016

Rizzoli & Isles (episode "Just Push Play")

Kelsey

2010

The Runaways

Sandy West

2007–...

Gossip Girl (episodes "There Might be Blood", "The Goodbye Gossip Girl")

Emma Boardman

2005–2017

Bones (episode "The Twisted Bones in the Melted Truck")

Amber Flaire

2005–...

Grey's Anatomy (episode "Suddenly")

Lily Anderson

2004–2012

House M.D.

Kenzie

2000–2015

CSI: Crime Scene Investigation (episode "Ghost Town")

Marnie Bennett

1999–...

Law & Order: Special Victims Unit

Nadia Decotis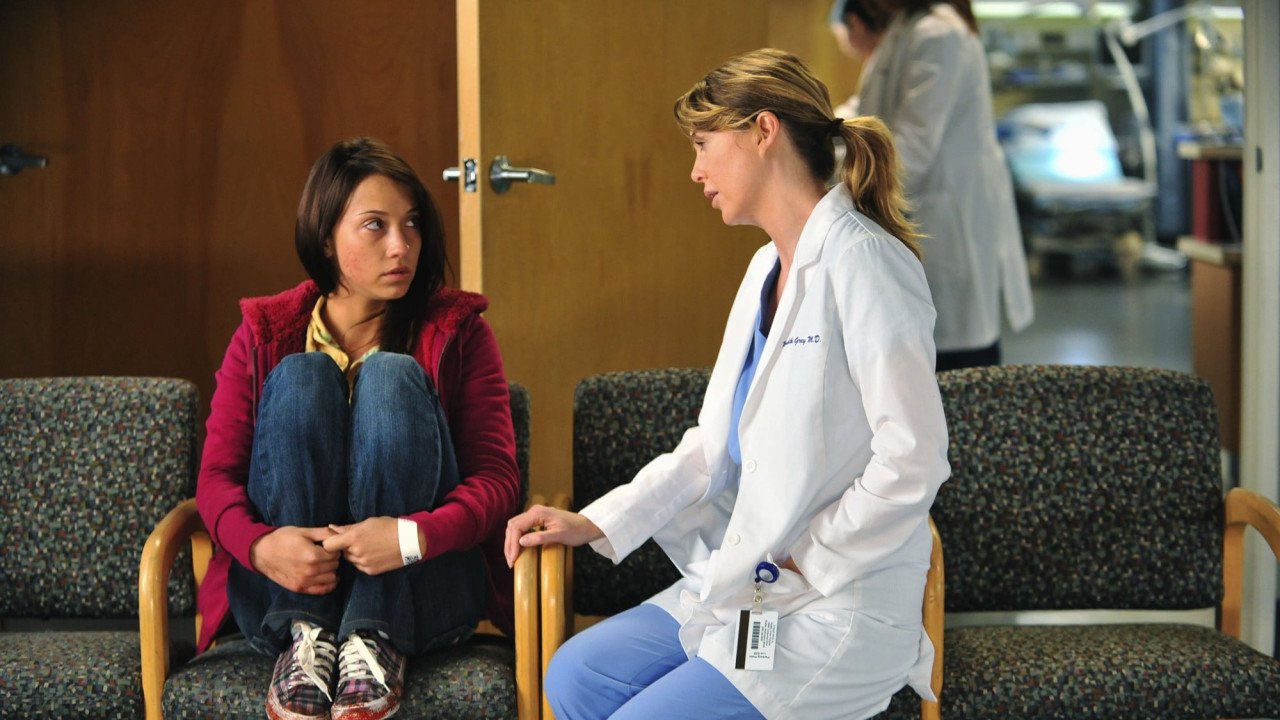 Stella Maeve in Grey's Anatomy
Stella Maeve's personal life and family
Stella Maeve is presently married to Benjamin Wadsworth. The couple met in 2018 at the San Diego Comic-Con International festival. They starred in series on the same channel and inevitably crossed paths: Stella was the star of "The Magicians," and Benjamin was in "Deadly Class." The actor recalls being mesmerized by the actress's gaze.
Here's how the actor reminisced about their meeting: "I was waiting for my turn, and my manager was talking to her and told me, 'Ben, come here and meet Stella.' She kept looking into my eyes, so I decided to go and talk." After that, the actors were inseparable. They dated, shared joint photos on social media, but fans doubted the seriousness of their feelings.
The fact is that Stella was 29 years old at the time, and Ben was only 19. Soon she became pregnant and gave birth to a daughter, Jo Jezebel Wadsworth, in January 2020. After that, the actress posted a photo showing a beautiful engagement ring. Ben reciprocates, captioning pictures with his wife: "I love her so much. She is so beautiful and full of energy. I'm crazy about you!"
Stella Maeve is with her husband, Benjamin Wadsworth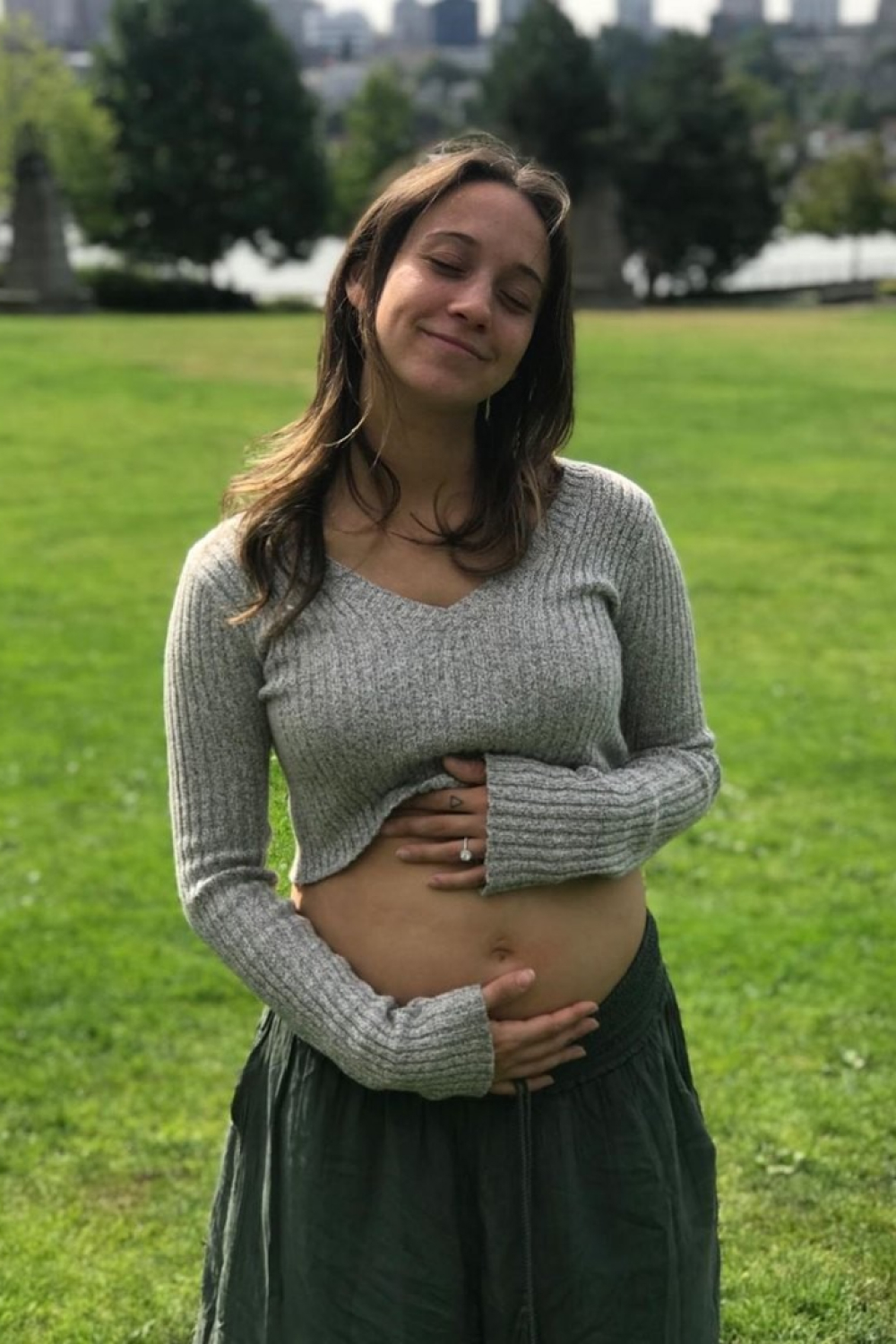 Stella Maeve pregnant
Stella Maeve now
Stella Maeve continues to act in films and series. In 2017, she starred in the dark comedy "Take the 10" by Chester Tam. Two friends, Chester and Chris, find themselves in a dire situation. A strange entity approaches them, ordering them to do something incomprehensible. The main roles were played by Josh Peck and Tony Revolori. Maeve played the role of Brooke. In 2022, she joined the cast of the crime series "Mayans M.C.", where she played the roles of Kody and Katie McNeil.
Published:
August 3, 2023
Updated:
September 26, 2023