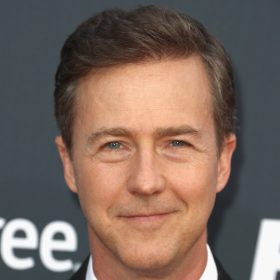 Edward James Harrison Norton Jr.
Edward Norton, a renowned American performer, director, playwright, and film producer, rose to international stardom following his lead role in David Fincher's "Fight Club." Celebrated filmmakers consistently engage with him despite his well-known demanding perfectionism; he frequently revises screenplays and directs activities on the set to achieve flawless results.
What we know about this person
Date of birth:
August 18, 1969
Zodiac sign:
Birthplace:
Boston, Massachusetts, USA
Marital status:
Married to Shauna Robertson
Occupation:
actor, director, film producer, screenwriter
Early life
Edward James Harrison Norton Jr. was born on August 18, 1969, in Boston, Massachusetts, and subsequently relocated with his family to Columbia, Maryland. As the eldest child, he had a younger sister and brother. His mother, a teacher of English, succumbed to a brain tumor when Edward was only 8. His father, who served as a Marine lieutenant in Vietnam, eventually shifted his profession to environmental law.
The Norton family's history is rich and diverse. He descends from architect John Norton, the creator of the Tyntesfield estate in England in the 19th century. His maternal grandfather engaged in the real estate business. In 2023, Edward Norton appeared on the show "Finding Your Roots," where genetic testing uncovered his ancestry, revealing links to Pocahontas and a remote relation to actress Julia Roberts.
From an early age, Edward harbored a passion for the stage. At 5, he experienced a musical adaptation of "Cinderella" at the Columbia Center for Theatrical Arts, featuring his babysitter in the principal role. He consistently performed in productions at the same venue, with his inaugural performance in "Annie Get Your Gun" at 8. The Norton family frequently enjoyed movies together, yet Edward's primary fascination remained with theater.
Edward displayed talent and vigor from a young age: at 15, he earned an acting accolade at a summer camp. His interests extended beyond the performing arts; following high school, he enrolled at Yale University, focusing on history and studying Japanese. Concurrently, Norton was actively involved in various sports, including rowing, aikido, and krav maga.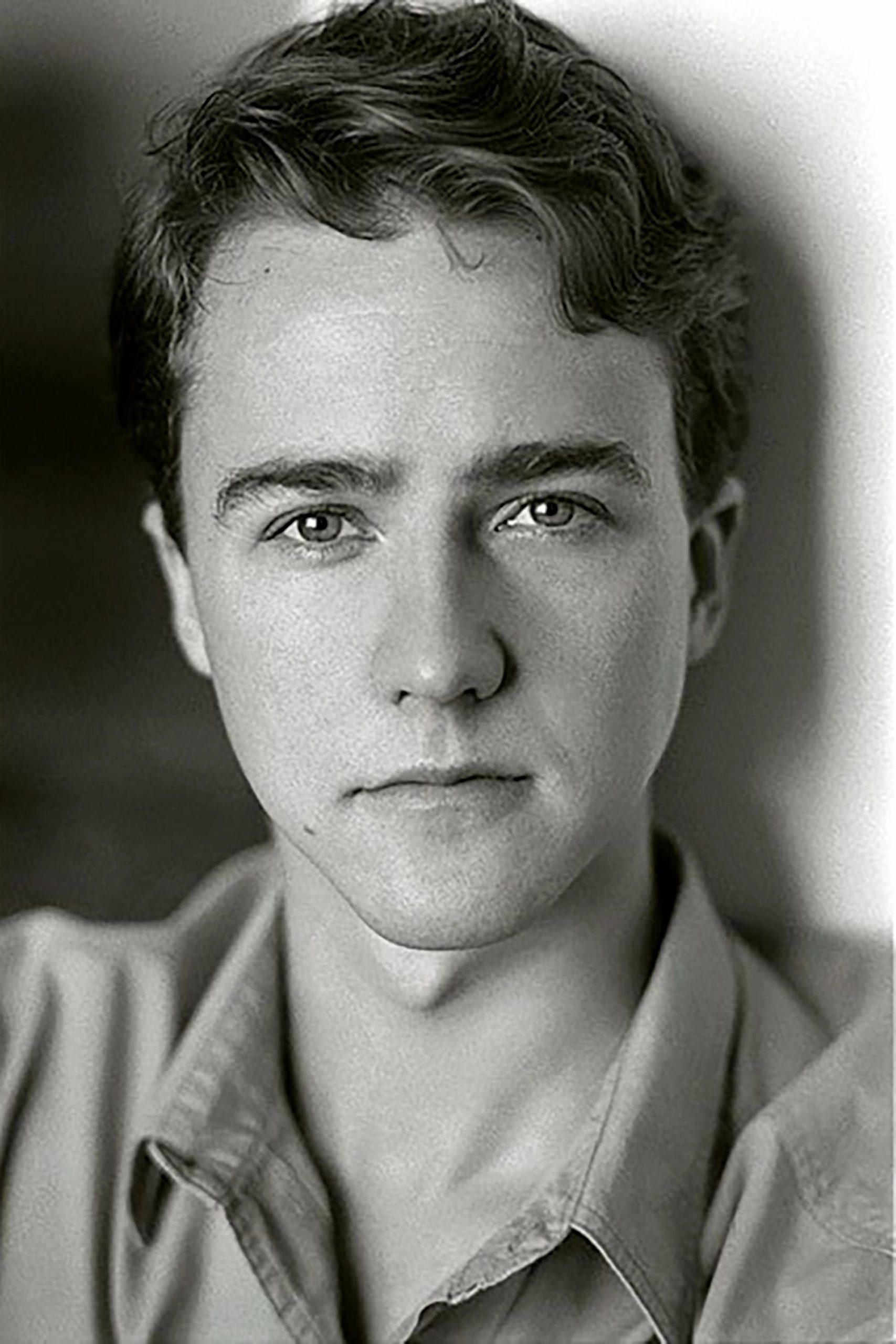 Edward Norton, younger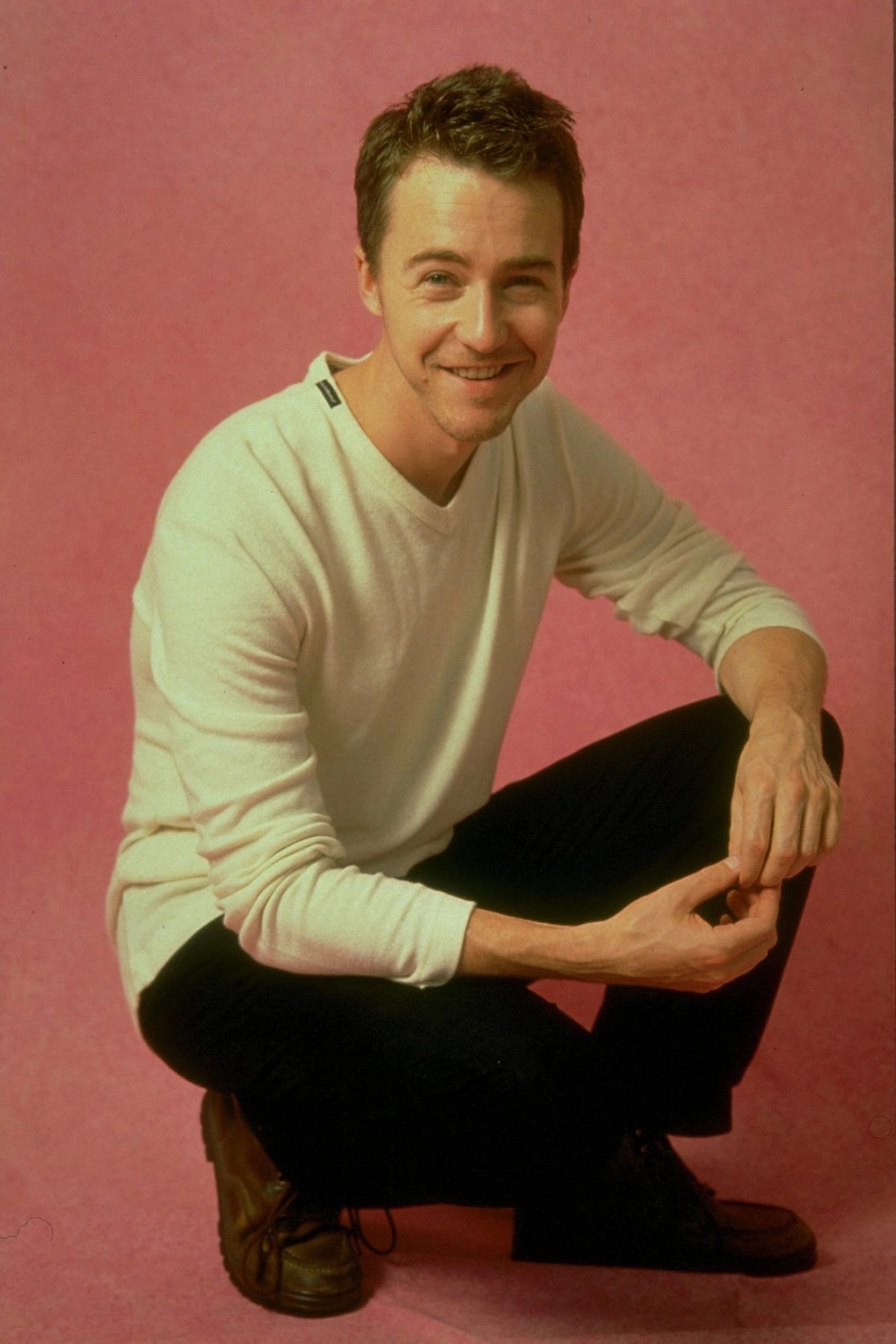 Young Edward Norton
Career beginnings
At the start of his journey, Edward Norton dedicated five months in 1991 to living in Japan. Fluent in the language from his university studies, he worked in Osaka as an emissary for his grandfather's property enterprise. This experience, coupled with the influence of illustrious actors like Al Pacino, Dustin Hoffman, and Robert De Niro, propelled Norton to relocate to New York with aspirations of forging a path in the film industry.
In New York, Edward Norton maintained his livelihood through various temporary jobs. During this period, he immersed himself in different acting techniques for six months before encountering Terry Schreiber, a respected American theater director and acting instructor. Norton commenced taking lessons with Schreiber, reciprocating by translating theatrical scripts into Japanese.
Norton's early endeavors included acting in modest New York theater productions and penning scripts for several. Renowned playwright Edward Albee, a three-time Pulitzer Prize recipient, recognized Norton's prowess in one such performance. Their collaboration on the play "Fragments" led Albee to admit that Norton's exceptional talent had profoundly impressed him.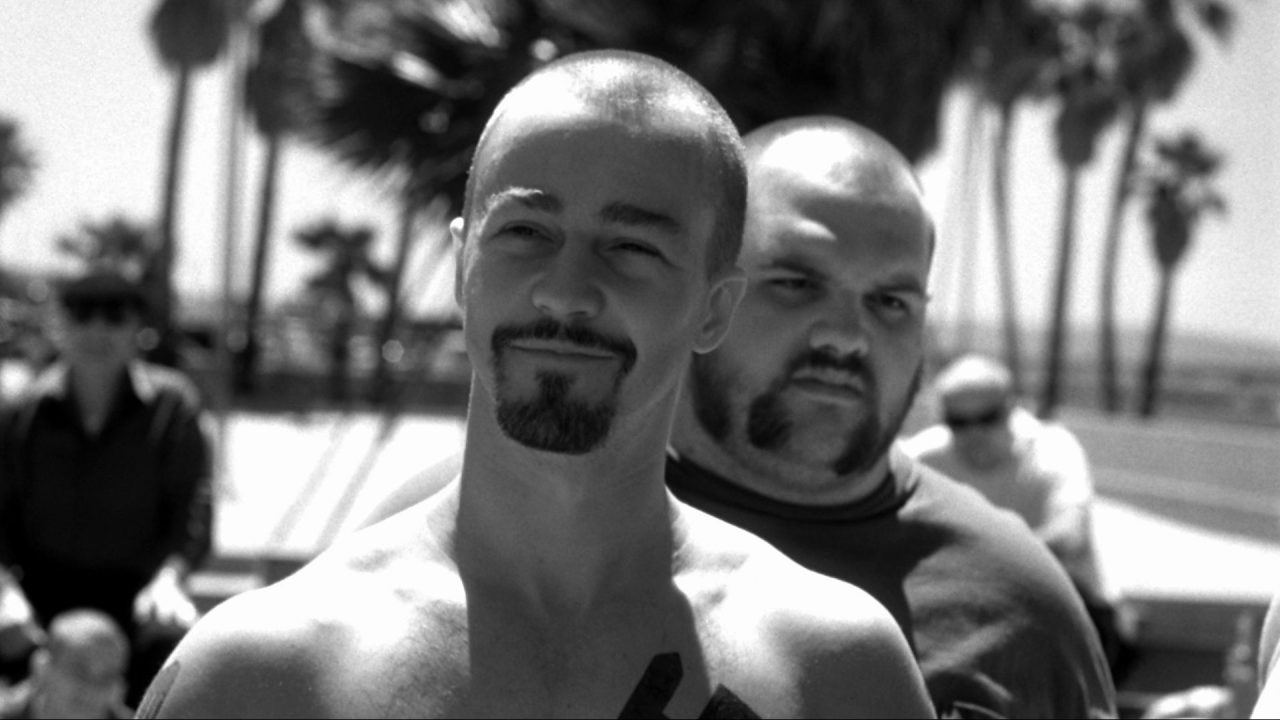 Ed Norton in American History X
Creative path
Edward Norton's cinematic journey commenced in 1995 with the gripping drama "Primal Fear." Acting opposite Richard Gere, Norton portrayed an adolescent implicated in a priest's murder. This role catapulted him to fame, earning widespread praise for his compelling portrayal. He garnered an Oscar nomination for "Best Supporting Actor" and secured a Golden Globe in the same category for this performance.
His trajectory in cinema saw a swift rise with two notable films in 1996: Woody Allen's "Everyone Says I Love You" and Milos Forman's "The People vs. Larry Flynt." In 1998, Norton appeared in "Rounders," a film centered around poker and high stakes, co-starring Matt Damon.
The 1998 feature "American History X," directed by Tony Kaye, saw Norton in the role of a reformed neo-Nazi. This part earned him another Oscar nod. Norton took the initiative to rework the screenplay, dissatisfied with David McKenna's original draft.
David Fincher's 1999 film "Fight Club," where Norton shared the screen with Brad Pitt, gained extensive recognition after critic Dennis Lim described it as a pivotal work of its time. Norton's ensuing roles spanned both leading and supporting characters in significant films. In the 2001 movie "The Score," he received accolades surpassing those of his co-stars Marlon Brando and Robert De Niro. Norton also contributed to the screenplay of "Frida," infusing humor and historical depth into the story of Frida Kahlo, with Salma Hayek in the lead.
In 2002, Norton featured in "Red Dragon," part of the Hannibal Lecter saga, playing an FBI agent. Here too, he found himself in script disputes with the director.
Due to contractual obligations with Paramount Pictures, Norton appeared in 2003's "The Italian Job." The 2000s saw him in notable roles like Ridley Scott's "Kingdom of Heaven" (2005) and Neil Burger's "The Illusionist."
Norton's versatile filmography includes "The Incredible Hulk" (2008), later succeeded by Mark Ruffalo in Marvel films, a Colonel in "The Bourne Legacy" (2012), and parts in "Collateral Beauty" (2016) and "Glass Onion: A Knives Out Mystery" (2022).
Norton's rapport with Wes Anderson began with the 2012 film "Moonrise Kingdom." Their collaborations extended to "The Grand Budapest Hotel" (2014), "Isle of Dogs" (2018, voice role), "The French Dispatch" (2021), and "Asteroid City" (2023).
The 2014 tragicomedy "Birdman" was a hit at film festivals, clinching the Best Picture Oscar. Norton's role as a gifted yet volatile actor garnered him nominations for an Oscar, Golden Globe, and BAFTA for Best Supporting Actor.
Norton's repertoire also includes directing, producing, and writing. His directorial debut was the romantic comedy "Keeping the Faith" (2000), featuring Ben Stiller and Jenna Elfman. His second directorial venture, the neo-noir drama "Motherless Brooklyn" (2019), showcased Norton alongside Bruce Willis as detective pals, with Willem Dafoe and Alec Baldwin in key roles.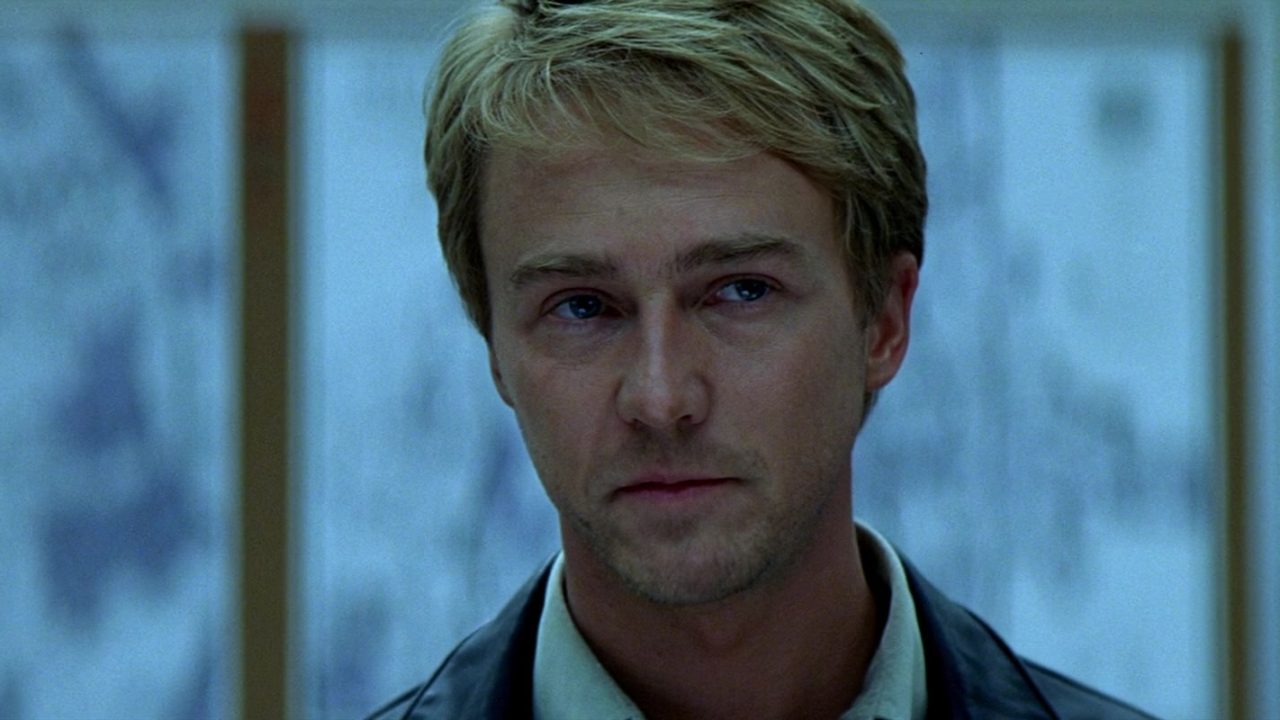 Edward Norton in Red Dragon
Edward Norton Movies and TV Shows
2014

The Grand Budapest Hotel

Inspector Henckels

2014

Birdman

Mike Shiner

2012

Moonrise Kingdom

Ward

2008

The Incredible Hulk

Bruce Banner / Hulk

2006

The Painted Veil

Walter Fane

2005

The Illusionist

Eisenheim

2005

Kingdom of Heaven

King Baldwin IV

2002

Red Dragon

Will Graham

1999

Fight Club

Narrator

1998

American History X

Derek Vinyard
Edward Norton's political involvement
Edward Norton's engagement in political and social causes is a significant aspect of his identity. Since 1998, he has served on the board of trustees for his grandparents' foundation, which emphasizes creating affordable housing. In 2008, he advocated a project to develop eco-friendly affordable homes, marrying his interests in social welfare and environmental conservation.
Norton is a prominent figure in the American political scene. In 2004, he rallied students in the arts to oppose George W. Bush's policies. He endorsed Barack Obama in both the 2008 and 2012 elections, and even produced a documentary on Obama's journey. Norton has been vocal in his criticism of the Trump administration's environmental policies and contributed $8,400 to Joe Biden's 2020 presidential campaign.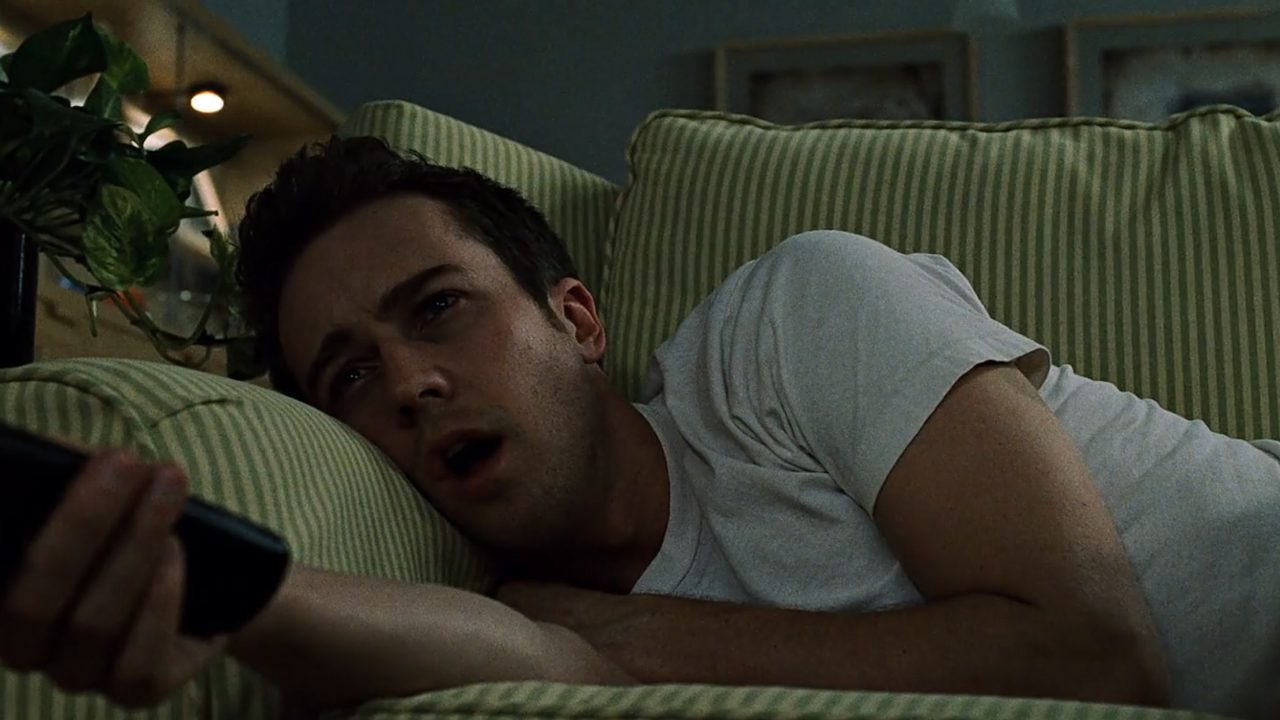 Edward Norton in Fight Club
Edward Norton's philanthropic efforts
Edward Norton actively supports organizations dedicated to wildlife conservation. He contributes to the African Wildlife Foundation and their "Say No" campaign, aimed at protecting elephants and rhinos from poaching. Additionally, he is the president of the U.S. chapter of the Maasai Wilderness Conservation Trust. In 2009, he led a team, including himself and three Maasai representatives, in the New York Marathon, raising over $1.2 million for the Trust.
In 2010, Norton was appointed as a UN Goodwill Ambassador for Biodiversity. As an ambassador, he has visited Africa several times, working on environmental protection and sustainability initiatives. In 2012, he participated in "Soccer Aid" for UNICEF, a charity soccer match that garnered 4.9 million pounds for children globally.
Talk Shows
2023

The Tonight Show Starring Jimmy Fallon

Role: Guest

2023

Entertainment Tonight

Role: Guest

2022

Today

Role: Guest

2022

The View

Role: Guest

2022

Live with Regis and Kathie Lee

Role: Guest

2022

Access Hollywood

Role: Guest

2021

Jimmy Kimmel Live!

Role: Guest

2019

The Jonathan Ross Show

Role: Guest

2019

The Daily Show

Role: Guest

2019

Rachael Ray

Role: Guest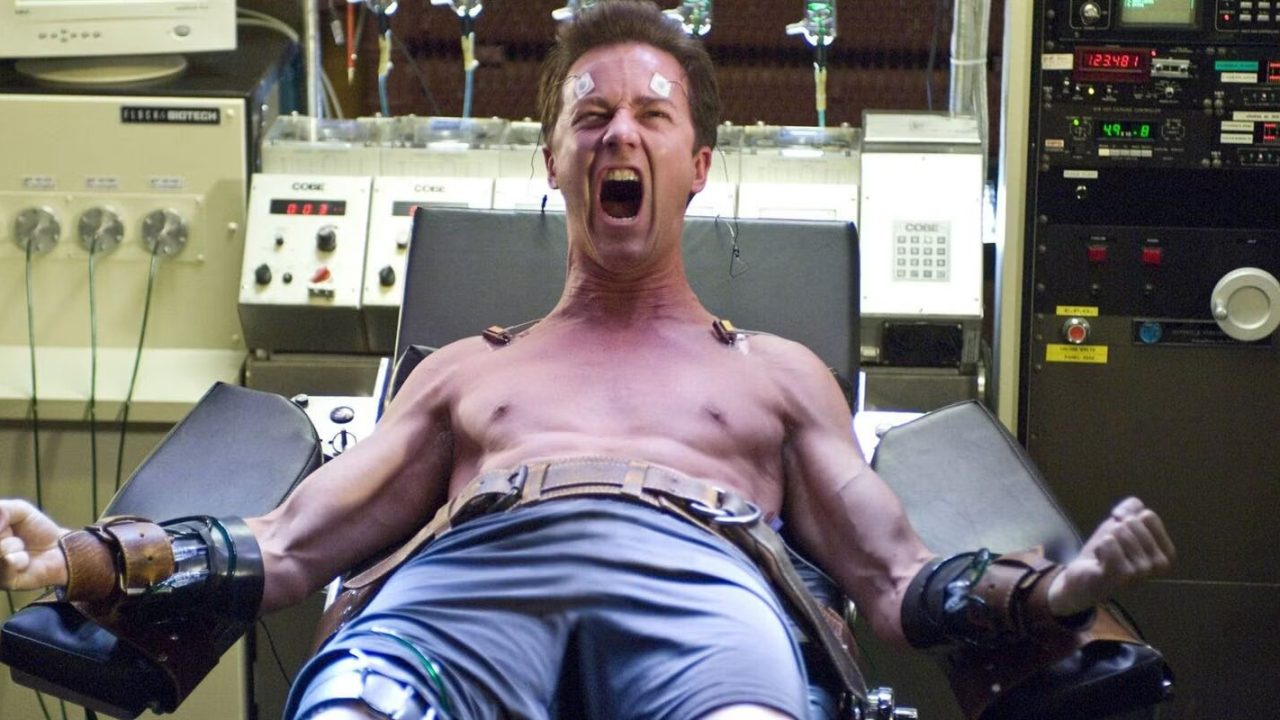 Edward Norton in The Incredible Hulk
Edward Norton's personal Life
Edward Norton maintains a protective stance over his private life, emphasizing his public persona as an actor above all. In 2012, he wed Canadian producer Shauna Robertson, whom he met in 2006. The couple welcomed a son, Atlas, in 2013. Robertson has produced numerous films by American director Judd Apatow.
Before marrying, Norton's personal life occasionally surfaced in the press. He described his relationship with actress and singer Courtney Love as platonic, though Love later revealed their four-year romance. They met on the set of "The People vs. Larry Flynt" in 1996, and Love still speaks fondly of Norton in interviews.
Norton also stayed friends with actress Salma Hayek, whom he dated starting in 1999. They co-starred in "Frida" in 2002. Notably, Norton skipped the premiere of "The Italian Job" in 2003 to support Hayek's directorial debut, "The Maldonado Miracle." Their relationship, however, concluded that same year.
Echoing his father's environmental consciousness, Norton is an avid environmentalist. He invested in a hybrid vehicle and a solar-powered home in Los Angeles. In 2003, he partnered with BP for the "Solar Neighbours" program, installing photovoltaic panels in Los Angeles homes, including those of Salma Hayek, Brad Pitt, and Robin Williams.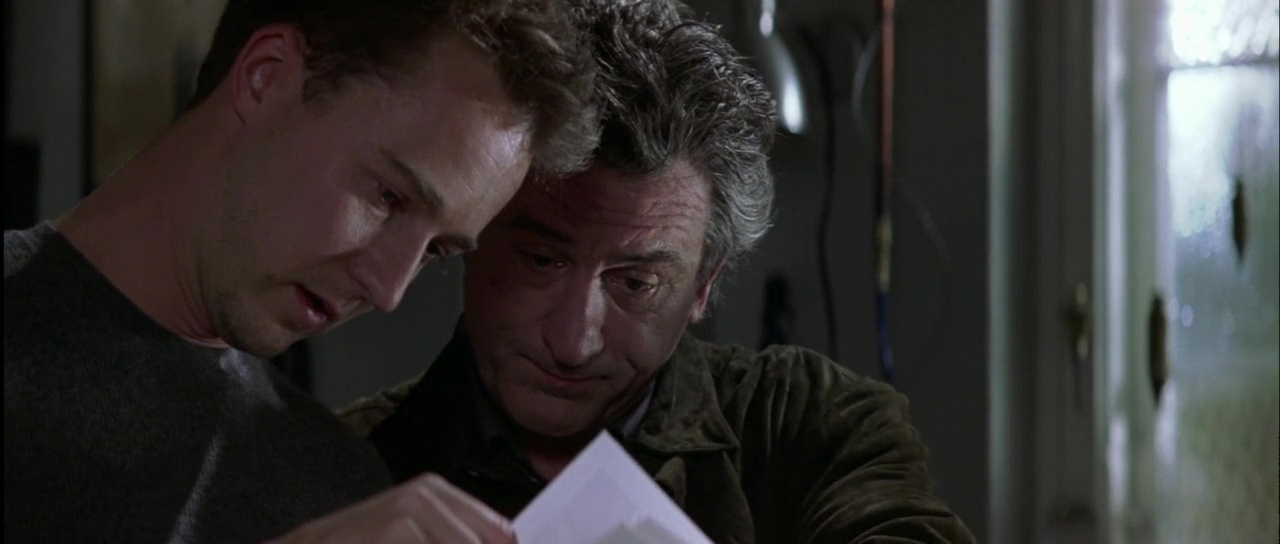 Robert De Niro and Edward Norton in The Score
Edward Norton now
Edward Norton persistently enhances his acting portfolio. The year 2023 saw the release of two notable projects featuring him. The anthology series "Extrapolations" delves into the crucial issue of climate change, a subject close to Norton's heart. The series also stars Meryl Streep, Sienna Miller, and Kit Harington alongside Norton. Additionally, 2023 marked the release of another Wes Anderson movie with Norton playing a pivotal role. In the science fiction comedy "Asteroid City," he appears with Jason Schwartzman, Scarlett Johansson, Maya Hawke, and Tom Hanks.
While Edward Norton's career has been successful, some critics argue he hasn't reached his full potential. He's often lauded as one of the most gifted actors of his era, adept at portraying both protagonists and villains, as well as nuanced characters. There's speculation that Norton's deep engagement in social, political, and environmental causes might be influencing his artistic choices.
"Forbes" magazine recognized Edward as one of the rare actors whose charitable endeavors are not driven by personal branding motives. For Norton himself, maintaining a low-key, private lifestyle is paramount. Distancing himself from the glitz of Hollywood, he prefers using public transport, seldom participates in interviews, and is a rare sight on red carpets. In selecting acting roles, he exhibits discernment, with each of his renowned characters distinct from the others.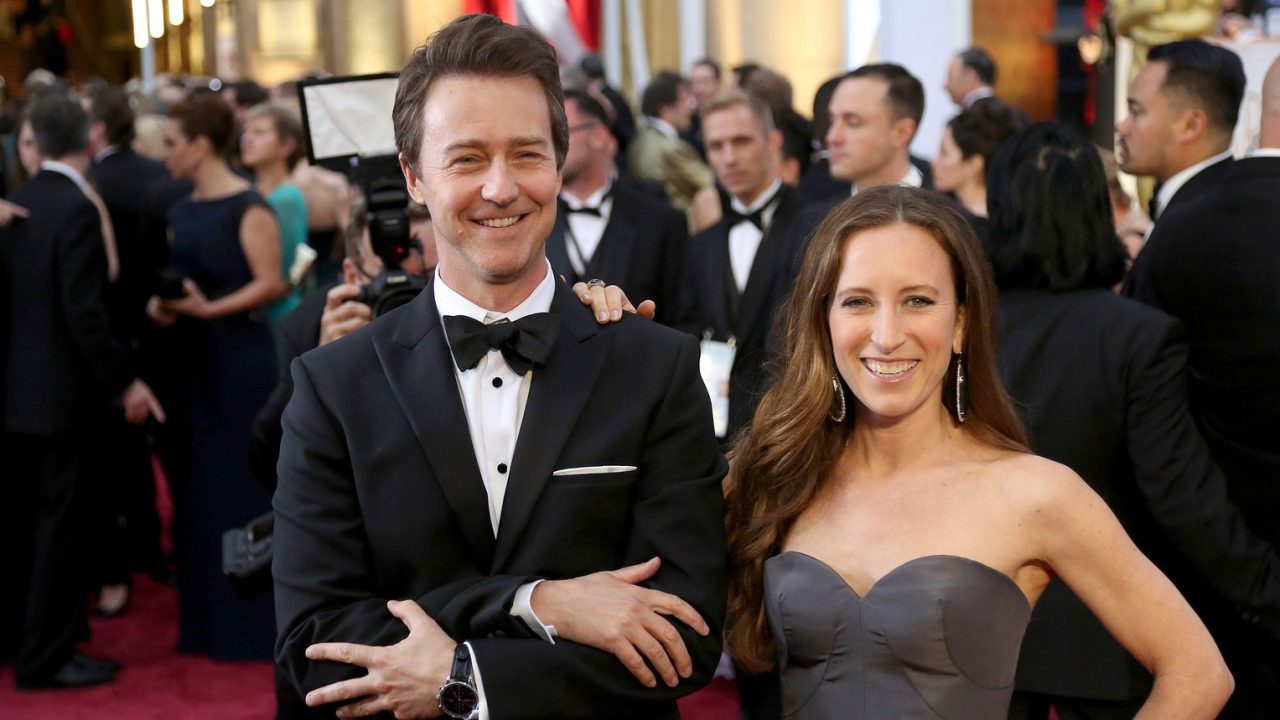 Edward Norton with wife Shauna Robertson
Published:
November 13, 2023
Updated:
December 10, 2023